Scotland are capable of winning Euro qualifier in Warsaw

By Tom English
BBC Scotland
Last updated on .From the section Football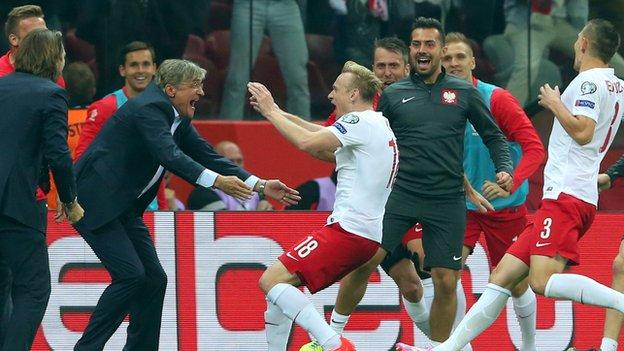 The first time Poland tried to beat Germany in an international football match, Otto Nerz was the coach of the Germans.
Things didn't end too well for old Otto. He joined the Nazi party, became a prisoner of war in the wake of the Battle of Berlin and died in an internment camp - of starvation, so the stories go.
His earlier life was all about football. It was December 1933 and the first meeting of the Germans and the Poles was settled by an 89th-minute winner from Josef Rasselnberg, the home team's striker.
In the seven decades that followed, Poland had another 16 cracks at beating Germany - and never succeeded. Fate had it that the one time in seven decades that Scotland took notice of the fixture and desperately wanted Germany to win it was the one time that they lost it.
Tom English
"Strachan's team will have enough self-confidence not to be fazed by what happened in Warsaw on Saturday."
you could understand why they talked so lyrically about what it all meant to them.
Sebastian Mila, one of the oldest in the squad at 32 and the scorer of Poland's second goal in Warsaw, talked of the emotion of the night.
"I dreamed about playing, but it was beyond my imagination that we would win and I would score," he said.
He called it "pure day-dreaming" or, to put it in a Scottish context, an unadulterated nightmare. The last thing Scotland needed - or expected - was a shock in Warsaw.
Germany are still hot favourites to top the group, but after Saturday night's drama, Poland have now put themselves in the box-seat for the second automatic qualifying place for Euro 2016.
It's early days, of course, but the Poles have put down the most impressive marker. And the most unlikely. Even allowing for the excellence of Robert Lewandowski, it was hard to see this result coming based on what Poland have been like for the longest time.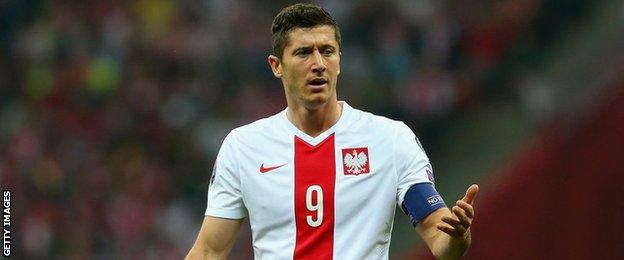 Their qualification campaign for the World Cup was a failure. In home games against England, Montenegro and Ukraine, the Poles failed to win any of them. They qualified for Euro 2012 as joint hosts and couldn't win a game, drawing with Greece and Russia and losing to the Czech Republic.
Saturday night was some turnaround compared to the slapstick that went before. You have to wonder how on earth they did it.
Germany were missing some key men again, so that explains it in part. They were also out-battled in the middle of the field, a lesson for Gordon Strachan that his most combative midfielders will need to be utilised on Tuesday if he's going to match the Poles' aggression.
But the scoreline does mask the detail. The Germans had 67% possession and 29 attempts on goal compared to Poland's five. There was an element of freak about the whole thing. A sensational and historic night for Poland akin to Celtic beating Barcelona.
Maybe it was a one-off. Maybe Scotland don't have as much to fear as the downing of the world champions might lead us to believe.
Or maybe that's just wishful thinking.
This is certainly a new Poland side. More physical and tougher to break down. Only three or four of the group that performed poorly in World Cup qualification are still in the team. They're better than before, but so, too, are Scotland. Strachan's team will have enough self-confidence not to be fazed by what happened in Warsaw on Saturday.
The result shouldn't intimidate them, but its ramifications are pretty obvious. It means that Scotland can ill-afford a defeat on Tuesday. A Poland victory would give them a six-point advantage in what we are all presuming - Saturday aside - is the race for second place.
The victory that the Scots won in Warsaw is a nice memory, but it was a friendly, a game played in peace-time as opposed to the footballing war that will unfold on Tuesday. Its relevance is limited.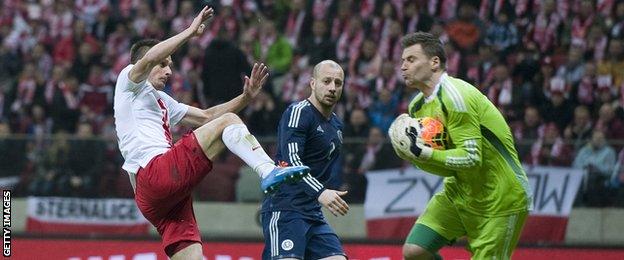 What is more relevant is some of the football that Scotland played against Georgia. Strachan went over the top in acclamation of the first 65 minutes at Ibrox, but it was definitely a step-up. Energetic, accurate, confident.
Scotland should have scored more goals but you feel that there are goals in this team. There will be chances on Tuesday.
What was hugely encouraging about Ibrox was that Scotland coped with the pressure of a must-win game. They were lucky at times, for sure. So were Poland. Every team who qualifies for Euro 2016 will have benefited from good fortune along the way. Every team.
The pressure is on again for Tuesday. Poland have delivered the landmark victory they have been dreaming about for 70 years and have shaken up the group. Scotland need to produce a marquee win of their own now. If they want to finish second then it's going to take some big performances to do it and Warsaw is as good a starting point as any.
The wisdom is that a defeat would be a disaster and a draw a decent result. Fair enough. But if you want to really hurt Poland and recalibrate the dynamic of the group, then a win is what Scotland should be looking for.
The Poles are floating on air. Scotland's job is to bring them crashing back to earth. You'd hesitate to say that they will do it. But more and more the evidence suggests that they are capable of doing it. Very capable.