Casey Stoney: How WSL can build on fantastic season
Last updated on .From the section Football

Sunday's climax to the Women's Super League has been in keeping with a crazy season on a personal and professional level.
In my view, it was the best finish we've ever seen and a fantastic advert for the game.
Liverpool started the day in third and snuck through the back door to win their second consecutive title as Chelsea and Birmingham failed to win their final matches. Right until the final whistle, a goal for either of the teams in blue would have meant they snatched the trophy out of Liverpool's hands.
In the end, perhaps Chelsea could not cope with the pressure. Unlike Liverpool, they hadn't been in that position before, and, with the calibre of players they have at the club, it was no wonder the players were so distraught at full-time. In my view, they have the best squad in the league.
It just goes to show that when the sport is showcased well, as it was by BT Sport and Radio 5 live, who both broadcast all three games, the excitement and the quality is there for all to see.
So, is there a desire from the audience to see more? Based on Sunday's events, the attention it received on social media and the growing crowds this season, I'd have to say yes.
There has been increased media coverage of the WSL this year, which has been fantastic, but I think we have reached a stage where it would be great to see more of the domestic game on terrestrial TV, perhaps even sharing matches with a digital broadcaster.
Sure, you may get the odd dull game, but that is the same as the Premier League where you might get hours of build-up only for the game to end 0-0. That's just the unpredictability of football.
But there have been plenty of superb matches this season. I cast my mind back to two weekends ago where you could argue that Liverpool won the title with a thrilling 3-3 draw against my team, Arsenal.
They came back from 2-0 and 3-1 down with a stoppage-time equaliser, and although I came off the pitch gutted that we had let a lead slip, everyone was in agreement that it would have been a great game for TV.
And if you need evidence of the quality on show, I can point you in the direction of Gemma Davison's finish in that game, a sensational lob by Fara Williams against Birmingham and Toni Duggan's strike for Manchester City on Sunday.
All about Casey Stoney
Born:
13 May 1982, Essex
Centre-back for Arsenal Ladies and England
Former clubs:
Arsenal, Charlton, Chelsea, Lincoln
Considered international retirement after not playing at Euro 2005 in England but now has 117 caps
In February, became first major female player to speak about being gay and her partner is now expecting twins
To build on this fabulous season, it's important that the game continues to market itself properly. That involves clubs building links in their communities and improving the scheduling of matches.
Playing in summer and not owning their own grounds means that clubs cannot always dictate when their games take place and we have seen times this season where a team might play five matches in two weeks and then have a month off.
I can understand why we have one break, because usually there is an international tournament, but there needs to be a more even spread of games because sometimes people get out of the habit or can't afford to come.
When there are breaks like this, it is also quite hard to get consistency in your performances so I'm sure it is an issue the Football Association will be looking into.
My best season for seven years
The competiveness of the league was underlined by Liverpool winning on goal difference. Only 10 points separated them and second-bottom Bristol, while we missed out on the title by five points, having had a poor first half of the season.
It makes you think what might have been. In addition to the draw with Liverpool, we conceded late on to draw with Notts County in July and I missed a penalty against Chelsea a month ago, a game we eventually lost.
So I can only imagine the heartache that Birmingham forward Karen Carney must be going through. She missed a penalty on Sunday against Notts County, a goal that might have earned the title, but she has been a driving force in that team this season so can't be blamed for anything.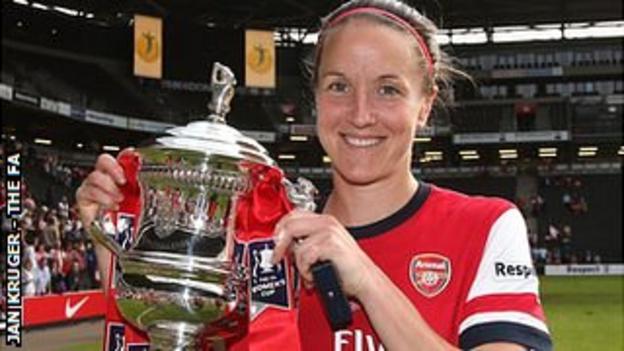 My penalty miss aside, it has been the best season I've had for seven years. Part of that is to do with winning my first trophy since 2006, and my own form. I've not enjoyed our results this season but I've really enjoyed the way we play and how the club is geared to success.
Fourth in the league is not good enough for Arsenal, who had won the previous nine top-flight titles before Liverpool's 2013 triumph. But, having won the FA Cup and with a Continental Cup final against Manchester City on Thursday to come, two trophies would represent a decent season considering the player and manager upheaval.
After having seen City upset Chelsea, we know we will be in for a tough game and they will be determined to mark their first season with a trophy. But, we are desperate to keep the silverware in our cabinet and do a cup double.
The only shame is that the game is on a Thursday night at Wycombe, which is a long trek for Manchester City fans. It also scheduled on an evening where both Liverpool and Bristol will be playing in the Champions League.
Casey Stoney was talking to BBC Sport's Alistair Magowan.