Raheem Sterling: Roy Hodgson questions Brendan Rodgers claims

By Phil McNulty
Chief football writer in Tallinn, Estonia
Last updated on .From the section Football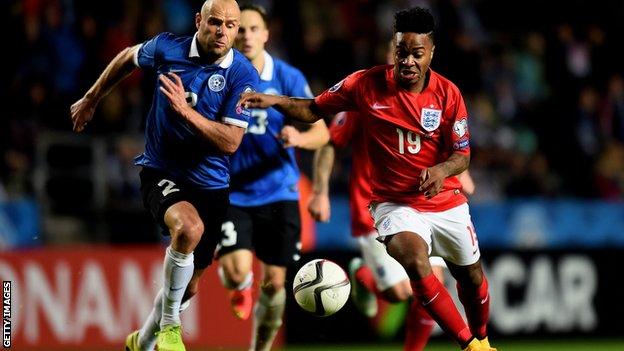 England boss Roy Hodgson has questioned Liverpool manager Brendan Rodgers' claim that some players need a two-day recovery period after matches.
"Raheem might say it is something that is becoming ingrained in him and that he felt the need to talk about being tired more than normal," said Hodgson.
"I don't think there's medical evidence to support the 'two-day recovery'."
Relations between England and Liverpool were already strained after Daniel Sturridge was injured on international duty in early September, with the striker not playing for club or country since.
Rodgers was angry when Sturridge suffered a thigh injury in training after England's 1-0 victory over Norway on 3 September, with the Reds boss insisting that players with pace need time to recover.
"I think clubs work differently at times to international teams," said Rodgers. "It's more the recovery strategy. When we look at our players here we look at them individually in terms of what their needs are.
"Fast players would have a second day recovery while other players can work on that day."
Sterling played 45 minutes of the 5-0 win against San Marino and came on as 64th-minute substitute in Tallinn on Sunday, with Hodgson planning to speak to Rodgers after the 19-year-old's exclusion from the starting line-up against Estonia.
"I should speak to Brendan and I'm sure he understands the situation," said former Liverpool boss Hodgson. "I made the decision to play Adam Lallana, but he [Sterling] recovered well enough for the game and is 100% fit.
Former England full-back Danny Mills
"If I was Raheem Sterling, I'd want to play every international game I could at this stage. I don't really believe a player his age will have gone to the manager and told him he's tired. Has there been influence from elsewhere? The club manager, for example? Who knows?"
"Brendan has been talking about the pressures Raheem has been under and the fatigue that has been setting in so I'm sure he will be dealing with Raheem over the next month as he sees fit."
Sterling played the last 26 minutes as a substitute against Estonia, winning the free-kick from which Wayne Rooney scored the goal that gave England their third win from three Euro 2016 qualifiers.
He has received heavy criticism on social media, although former England captain Gary Lineker came to the youngster's defence when he tweeted: "Raheem Sterling is a teenager. Teenagers get tired and even moody. He's young, still developing. We should cut him some slack."
Sterling himself took to Twitter and said as part of a tweet: "Excuse me for being human…"