FA Cup: Willand Rovers ready to take chance to make first round
By Brent Pilnick
BBC Sport
Last updated on .From the section Football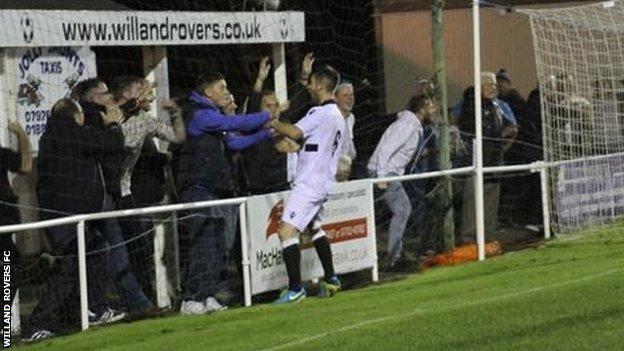 "We've got a chip shop, a One-Stop and a pub, that's our town really."
With a description like that, it is no wonder few people have heard of Willand.
But the chairman of the local football club failed to mention the one other thing going for the mid-Devon village.
Willand Rovers, of the Western Premier Division, are the lowest-ranked side left in this year's FA Cup.
The team - whose players include tilers, teachers and builders - are just one win away from the bright lights of the first round and the chance of a Football League side coming to visit their Silver Street ground, a couple of miles outside the town of Cullompton to the north east of Exeter.
There are reports of the club playing matches as far back as 1907, and for all of their existence they have plied their trade in the regional leagues around Devon and the south west of England.
Willand Rovers' FA Cup run
Extra Preliminary Round:
Beat Radstock Town 3-1
Preliminary Round:
Beat Odd Down 2-0
First Qualifying Round:
Beat Saltash United 2-1
Second Qualifying Round:
Beat Blackfield and Langley 1-0 in a replay after a 0-0 draw
Third Qualifying Round:
Beat Aveley 3-2
But after their 3-2 win over Aveley last Saturday, Willand found themselves in the hat for the fourth qualifying round of the FA Cup for the first time, where they will host either Maidenhead United or Gosport Borough.
Both sides are in the Conference South, three divisions above Devon side.
"We're the lowest-ranked side, so whatever team we get now is going to be hard," chairman Mike Mitchell told BBC Sport.
"I've every confidence in our side now that we can pull off things that we've never done before," added Mitchell, who played for club in the 1970s.
But Rovers know the task will be great, especially when you consider Gosport beat Larkhall Athletic, who won Willand's league last season, 7-1 in the previous round.
"We get crowds of about 60 or 70 for league games, but we're up to about 300 now," said Mitchell of the effect the FA Cup has had on his little club, whose stand, according to club legend, was made from timber saved from the old village hall when it had to be demolished to make way for the M5 being built in the 1970s.
Willand Rovers' roll of honour
2001:
Champions of the Devon County League, gaining promotion to the Western League Division One
2005:
Won Western League Division One, gaining promotion to the Western Premier Division
2007:
Won the Western League's Les Phillips Cup
2008:
Finished third in the Western League - the highest finish in club history
2009:
Made the Second Qualifying Round of the FA Cup
And the FA Cup prize money - Willand got £7,500 for winning their last game and would get £12,500 if they could win again later this month - is a huge sum for a little village team.
"For us financially it's a godsend, any non-league club will tell you the same, it's just superb to be in this position," Mitchell said.
"Hopefully we can put the money to good use to improve our facilities."
Manager Scott Rogers knows a thing or two about the FA Cup, having reached the first round with Tiverton Town, Newport County and Forest Green.
"We've played five or six games to get to this stage, that's the equivalent of Exeter City getting to the final," Rogers said.
"This is our final really. Although we're big underdogs, it's a one-off game and Silver Street is a tight little ground.
"If it was a big open ground you'd expect them to play us off the park, but at home we can get close to them and get on their nerves.
"I've been to the first round a few times and they're great days," he added.
"I hope the boys enjoy the build-up to the game and the media and things, for them it'll be a massive thing they have not experienced before.
"I want them to enjoy every minute of their adventure."