Birmingham City Ladies 'desperate' for funds - Parker
Last updated on .From the section Football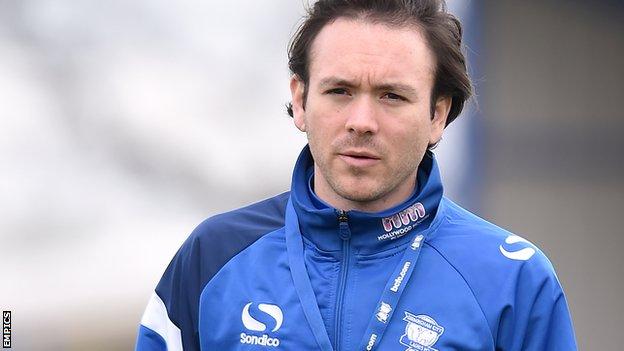 Birmingham City Ladies boss David Parker says the Women's Super League club need new to find new sponsorship to compete with their rivals.
And Parker insists they need new funding if they are to improve.
"For people who have wealth, it's not a lot. We're desperate," he told BBC WM.
Parker on keeping his best players at Blues
"We have to try and keep the predators at bay and you can only do it for so long."
"The bigger picture is turning full-time. We have to do that to keep surviving. We've seen the difference that can make going full-time and that is our short-term goal.
"We need to ensure our funding. We need someone out there with a bit of love for Blues, and we have to find out it soon to keep the group together and build on what we've got."
Parker's team even missed out on a European spot as they finished third, having started the day in second, knowing that victory over Notts County would give them their first title if morning leaders Chelsea lost.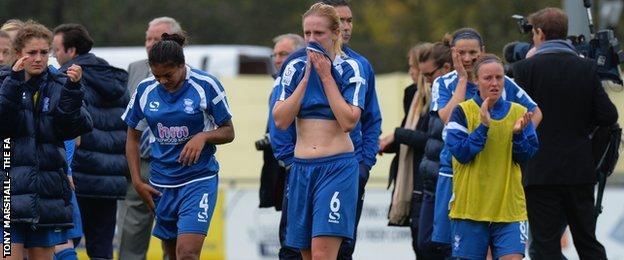 But, while Chelsea did go down at Manchester City, Blues could not take advantage, drawing 2-2, allowing third-placed Liverpool to sneak in and retain their title.
"One goal's difference between winning the title and finishing third - it's hard to take," added an emotional Parker.
And he admitted that it is getting harder and harder for his team to resist overtures from other clubs.
Women's football still on the up
Attendances in the top division of the FA Women's Super League increased by more than 30% in 2014.
The average league attendance in 2014 was 728, compared to 562 in 2013.
WSL 1 newcomers Manchester City recorded the highest average league attendances of the season (949), while 1,292 supporters watched their final match against Chelsea on Sunday
"We have to try and keep the predators at bay and you can only do it for so long," said Parker. "The predators have already tried their best and we're coming to a tipping point.
"We've gone to hell and back with this football club.
"In terms of going to the Champions League and losing money, trying to string things together, people putting their hands in their pocket to give these girls what they deserve.
"We've fought for everything. We get given nothing.
"Yes, the men's club do fantastically for us. We're grateful for everything they give us but, in comparison, it's nothing. It really does not make much of a difference.
"It's that bad we're in a professional league and were playing on school pitches this summer as we didn't have a training ground. We barely get any kit. We barely get given anything."
David Parker was talking to BBC WM's Rob Gurney.