The Price of Football 2014: Swansea a 'model' for other clubs
Last updated on .From the section Football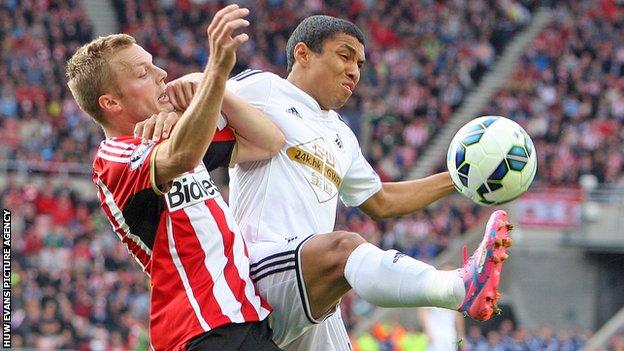 Swansea City is a model for other clubs in the Premier League, says football finance expert Tom Cannon.
The biggest annual Price of Football study covers 176 clubs in British football across 11 divisions.
"Swansea City are very commendable in their approach," said Professor Cannon of the University of Liverpool.
Swansea's most expensive season ticket is £499, only £70 more than the club's cheapest season ticket.
By comparison, the cheapest season ticket at Queens Park Rangers costs £499 and at West Ham fans pay at least £620.
The Swans are in their fourth season in the Premier League after securing promotion through the Championship play-off final in 2011.
Cannon commended Swansea for sustaining their Premier League status while keeping tickets at affordable prices.
"What you've had at Swansea City is a very steady investment in the team... while at the same time offering the fans a pretty good deal," he added.
"[It's] one of the best managed clubs across British football in terms of actually producing a return and still having relatively low prices.
The price of pies

Swansea City

£3.50

Cardiff City

£3.40

Newport County

£2.50

Wrexham

£2.60
"You've got a team that... is near the top of the Premiership in terms of performance, but very much near the bottom of the Premiership in terms of ticket prices.
"Swansea is a model for most clubs in the Premier League."
Championship side Cardiff City's most expensive season ticket is priced at £689, dearer than the most expensive season ticket at seven Premier League clubs - including Swansea City.
The cheapest season ticket at Cardiff is £320, with the cheapest matchday ticket at £18 with the most expensive priced at £40.
"Cardiff City announced their ticket prices for this season in the middle of last season when there was, even then, the prospect of staying in the Premiership," Cannon said.
"There was a furore amongst Cardiff City supporters who felt the increase in ticket prices was completely unacceptable.
"The way Cardiff City have responded has basically been to follow through on their most expensive tickets and give that big increase in season ticket prices despite the fact they've been relegated.
"But they've sharply reduced the price of their cheapest tickets therefore making those tickets available for a lot more fans."
Swansea City, Cardiff City and Wrexham charge £3 for a matchday programme. Newport sell the most expensive programme at £3.50 in League Two. Only Southampton's is more expensive in England's top five divisions.
Further down the leagues, Professor Cannon said League Two side Newport County and Wrexham of the Conference were working to attract fans to attend.
The cheapest season ticket at Newport cost £250 compared with £229 at Wrexham with the most expensive at Newport priced at £380 and £259 at Wrexham.
"Both clubs are very much looking to build their fan base and to provide opportunities, not only to go to the match but to enjoy the pies and the pints," Professor Cannon said.
"Wrexham, in particular, have always had a good reputation... for trying to make football accessible to larger and larger numbers of people.
"What they're doing in terms of their pricing, certainly at Wrexham, reflects that."