Liverpool v Real Madrid: Alan Kennedy on 1981 European Cup
By Sam Sheringham
BBC Sport
Last updated on .From the section Liverpool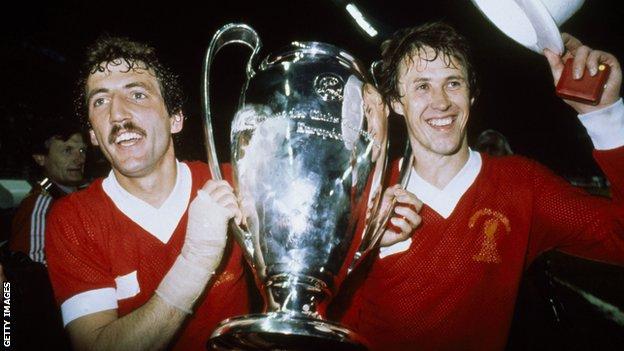 This piece was originally published in October 2014, before a Liverpool v Real Madrid Champions League group game
Two hours before taking on Real Madrid in the 1981 European Cup final in Paris, Alan Kennedy and his Liverpool team-mates were not exactly 'in the zone'.
Warm-up routines, pre-match rituals and Bob Paisley's team talk were all put on hold because of a row with TV broadcasters over advertising.
At their insistence, Liverpool were obliged to cover up the Umbro logo on their shirts, prompting scenes more akin to an episode of Blue Peter than the build-up to the continent's biggest club contest.
"It was absolutely diabolical," recalls Kennedy. "A couple of hours before the game we were putting sticky tape on each other's shirts. I was doing Alan Hansen's, he was doing mine and Phil Thompson was doing Phil Neal's.
"It was totally ridiculous and would never happen now, but Bob reacted in a good way. He said we should be even more determined to win the game. His attitude was always that if someone puts problems in our way, we'll get over them, and that's exactly what we did."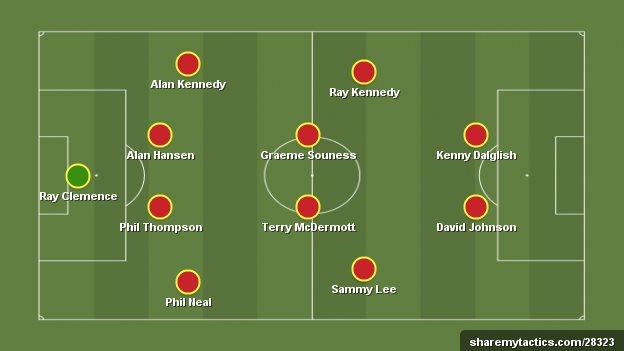 At a heaving Parc des Princes, Liverpool carried out Paisley's instructions to the letter as Kennedy cut in from the left to decide a tense encounter with an 82nd-minute winner. His strike sealed Liverpool's third European Cup success in five years during an era in when English clubs ruled Europe.
But it was a game he nearly had to miss.
"I broke my wrist in the semi-final first leg against Bayern Munich and the club doctor said it was a 10-week job," says Kennedy, who joined Liverpool from Newcastle for £300,000 in 1978 and endured such a traumatic debut that Paisley joked at half-time that "they shot the wrong Kennedy".
"I wanted to play but we couldn't find out what we should do - strap it up or plaster it or whatever. In the end I had a metal cast strapped to my wrist. It was a bit cumbersome and heavy and would undoubtedly be classed as dangerous in today's football world."
With Kennedy listening on the radio back home on Merseyside - European matches were rarely televised at the time - Liverpool overcame the early loss to injury of Kenny Dalglish to draw the second leg 1-1 in Munich and go through to the final on away goals.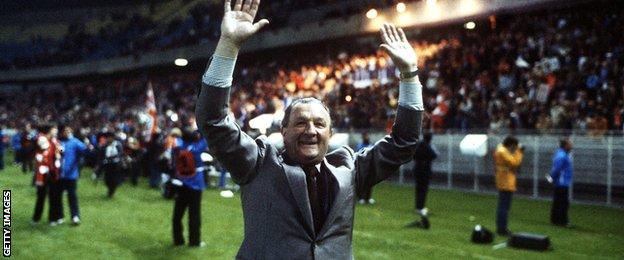 One month later, Kennedy boarded the flight to Paris still unsure over whether he would be playing but determined to soak up the atmosphere on his first trip to the French capital.
"We flew over from Liverpool on the Monday on Aer Lingus," says Kennedy. "We always flew with them because it was a lucky omen. There were lots of fans waiting for us in the airport. I think they'd gone out on the Monday morning and were staying for the week.
"We stayed in Versailles for one night and then moved to a hotel in the town centre. There were a lot of fans who were staying in the same hotel so you did get interrupted but there were family and friends around too.
"Some of the other lads had played in two other European Cup finals [in 1977 and 1978, when Liverpool beat Borussia Monchengladbach and Club Bruges respectively], but it was my first. I didn't get much sleep the night before. I was constantly thinking about the game and was still feeling some pain in my wrist."
On the day of the match, the players ate steak together at 12.30pm and then headed back to their rooms for an afternoon nap.
They were woken at 4pm by assistant coach Ronnie Moran and gathered in the hotel restaurant once more for their traditional pre-match snack of tea and toast. When their bus set off for the stadium, they were still unaware of the starting XI.
"Bob told us the team when we got to the ground," says Kennedy. "It was a shock to be included and I probably wasn't fully prepared mentally. But once the manager gives you the go-ahead, you tune yourself in and get ready to go."
Liverpool v Real Madrid past meetings

Date

Competition

Result

Scorers

27 May 1981, Paris

European Cup final

Liverpool 1-0 Real Madrid

A Kennedy

25 February 2009, Madrid

Champs League, Last 16, 1st leg

Real Madrid 0-1 Liverpool

Benayoun

10 March 2009, Anfield

Champs League, Last 16, 2nd leg

Liverpool 4-0 Real Madrid

Torres, Gerrard 2, Dossena
Real Madrid's line-up featured one or two familiar faces - German midfielder Uli Stielike, who had played for Borussia Monchengladbach against the Reds in the 1977 final, and former West Brom and England winger Laurie Cunningham. Beyond that, the six-time European Cup winners were something of an unknown quantity.
"We'd had them watched and [coach Tom Saunders] had picked out certain players, but it was nothing like today, when players have dossiers about all their opposition," adds Kennedy. "We wouldn't even have recognised some of their players."
The match itself was a scrappy, tactical battle on an uneven pitch. Jose Antonio Camacho, who later became Real Madrid and Spain manager, wasted the Spanish side's best opening, while Graeme Souness failed to beat keeper Agustin Rodriguez after being played through by Dalglish.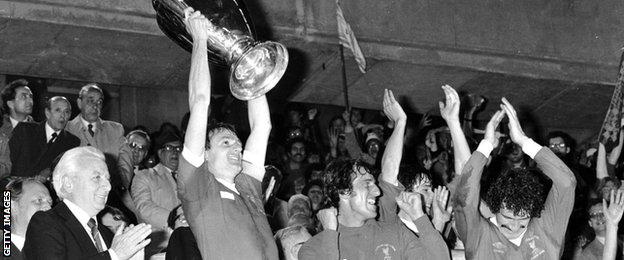 As the match wore on, Liverpool grew in strength as Souness overpowered Stielike in midfield. With Cunningham largely occupying Phil Neal down Liverpool's right flank, Kennedy had the freedom to get forward down the left.
Eight minutes from time, one of the then 26-year-old's forays brought the ultimate reward.
"I wasn't thinking about scoring a goal, I was thinking that if I could make a run here it might create a bit of space for Souness, McDermott or Dalglish," says Kennedy. "But Dalglish had come to the byline so I ran into the space that had been left open for me.
"After taking the ball on my chest I remember the centre-half tried to kick me but his swing of the left boot missed me and I was through.
"If the goalkeeper had stayed where he was he would have saved the shot, but he made a little movement to his left-hand side so he was covering the far post as well as the near. That signalled to me that I could drive the ball into an area where there might be a goal."
When his shot hit the net, Kennedy sprinted to celebrate in front of the delirious Liverpool fans behind the goal before being mobbed by his team-mates.
The celebrations would continue long into the Paris night.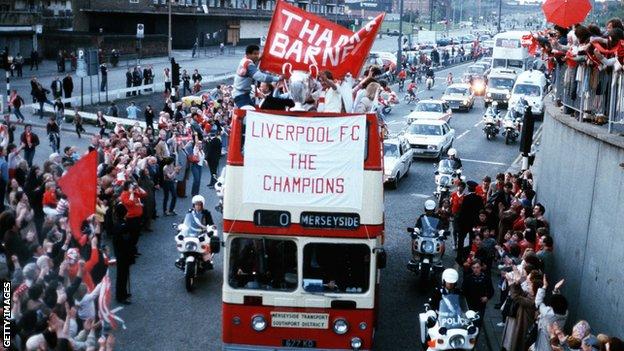 "I went back to one of our hotel rooms with a few beers and had a bit of a sing-a-long with Alan Hansen and his family," says Kennedy.
"Some of the other players went to the Lido club in town, a disgraceful place with six-foot dancing girls. They even took the Cup with them. Thank goodness they brought it back."
With the trophy safely in their luggage, Liverpool's victorious players flew back to their home city for an open-top bus parade. On the top deck, players held up a giant banner stating "Thanks Barney" - a reference to Kennedy's likeness to Flintstones character Barney Rubble.
"The homecoming was unbelievable," says Kennedy, who went on to score the winning penalty in Liverpool's 1984 European Cup shootout triumph over AS Roma in Rome. "There was red and blue everywhere because the Everton fans came out to support us too.
"We were hanging off the bus and we had a bit of drink but we didn't mind because we'd finished the season. It was time to enjoy ourselves."