Wales: Chris Coleman gives Gareth Bale 'freedom' - Southall
Last updated on .From the section Football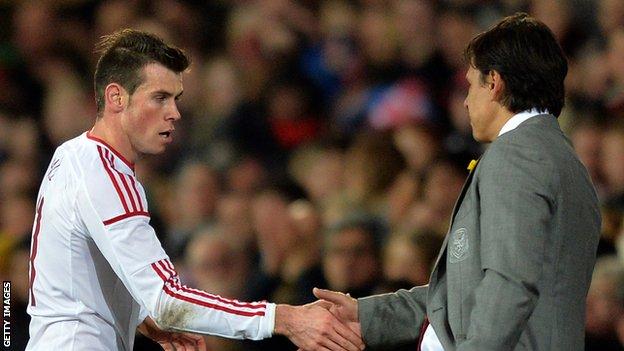 Neville Southall has commended Wales boss Chris Coleman for allowing Gareth Bale to flourish in the national side.
Southall, the most capped Welshman, believes Coleman should take great credit for the environment he has created.
"Sometimes it's hard to create that atmosphere and I think Chris has done really well," he said.
"That's why he [Bale] is enjoying it so much because he's got the freedom to be himself.
"Sometimes you get managers who try and force things on people and try and get them to do what they don't want to do.
"Chris has got all the lads believing that if we give the ball enough to Gareth in the right areas and Gareth loses the ball a few times does it really matter?
"Not really because when he produces he'll get a goal or produce something for someone else."
Wales are unbeaten in Group B and have lost only once in eight internationals with a trip to Belgium their next assignment on 15 November.
Former Everton keeper Southall believes Coleman should be praised for Wales' form over the past 12 months.
"Chris has kept his own philosophy and kept strong and he's done exceptionally well," Southall added.
"At the moment things are going great and Chris deserves a lot of credit I think.
"It was a hard job to take over and he's had a lot of critics but he's actually believed in his team.
"The Friday night [against Bosnia] I thought was a proper Welsh performance. We had everyone dig in.
"That was a really good performance and the feeling inside the stadium was 'we can do this' and 'we can get this.'
"Now the momentum is with them then there's no reason why we can't go through because I can't see anything in that group that can frighten me."