Rooney Rule: 'British football may need to consider legal action'

By Richard Conway
BBC Radio 5 live sports news correspondent
Last updated on .From the section Football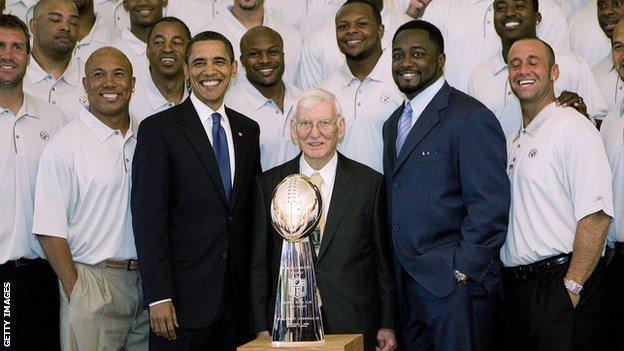 A top US sports discrimination lawyer says British football may be reaching a "breaking point" over introducing a 'Rooney Rule'.
The Rooney Rule requires NFL American football franchises to interview at least one black or ethnic minority candidate for senior coaching jobs.
Professor Jeremi Duru said the debate was moving in the right direction.
But he said "further steps" - including legal action - could be needed if there was "no progress".
His comments come in the wake of Blackpool chairman Karl Oyston's criticism of its possible introduction into the Football League.
Oyston said it would be an "insult to people" in the sport and that appointments should be made on "merit".
What is the 'Rooney Rule'?
The 'Rooney Rule' was established in 2003 and named after Dan Rooney, owner of the Pittsburgh Steelers and the chairman of the NFL's diversity committee. It requires NFL teams to interview at least one black or ethnic minority candidate for head coaching and senior football operation opportunities that become available, as part of a transparent and open recruitment process.
Duru, who works alongside Cyrus Mehri - the man who helped push through the adoption of the Rooney rule in American football in 2002 - is, however, hopeful that a greater understanding by British team owners of what the regulation exactly means will lead to change being instigated without the need for legal recourse.
"I think there's a place where we can get to that's short of legal action, that can propel the conversation in the direction where reforms are made," Duru said.
"There needs to be a clear understanding that we are not talking about a hiring quota or a rule that bears on hiring.

"It's not about someone not having merit being hired. It is about opening the door so people can get in the room and argue their merit. That's all it is.
"I think that if that point can be driven home then I think we can have a legitimate, reasonable debate about whether a Rooney Rule system would be something that would be appropriate in the United Kingdom.
"If we have that debate and [still] no progress then maybe we think about taking further steps. Legal action is a possibility."
Former Tottenham Hotspur player Garth Crooks believes Football League chairman Greg Clarke has "bottled" introducing the Rooney Rule by not raising it at the Football League's annual general meeting last month.
Keith Curle and Chris Powell are the only black managers in the top four English leagues.
And Duru, who has close links with the Professional Footballers' Association (PFA), is confident that progress on increasing the diversity of managers can be achieved.
He said: "You've got black managers arguing for it, you've got people at the PFA saying it's important. You've got Kick It Out, you've got MPs saying that this is something that's important.
"I think we're building towards possibly a breaking point on this in a way that we weren't two years ago."
Duru also believes players must now be more prominent in calling for reform.
"A lot of NFL players have seen the last 10 years transpire and seen opportunities open up," he added.
"There were many fewer players 10 years ago who were willing to talk about it because they were worried about backlash.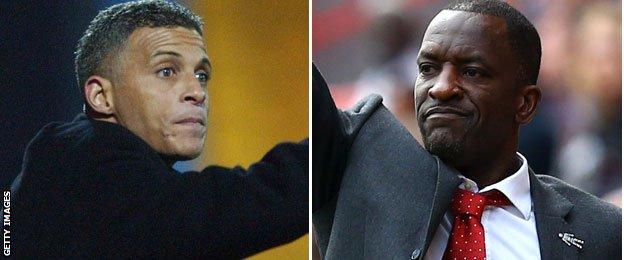 "But now the players are seeing the benefit and they know the benefit will accrue to them if they want to go into coaching.
"I think at this point in the United Kingdom is a time for players to be courageous because the benefits of a system that is more open will accrue to them if they want to go into management.
"If you have players coming out on this strongly and in a united front together that could really be what turns the tide on this. Players must recognise this power that they have."
Facts and figures
The PFA says about 18% of players on their coaching courses are black or from other ethnic minorities
There are 192 Uefa Pro Licence owners in England, and 14 of those are black coaches
About 25% of players in the professional game are non-white
There were five black managers in English professional football last season but, of Chris Hughton, Chris Powell, Paul Ince, Chris Kiwomya and Edgar Davids, only Powell still has a job, at Championship club Huddersfield Town
Click here to listen again to Richard Conway's examination of the Rooney Rule in the US and whether it can be applied in the UK.