Ched Evans: Clubs 'must gauge fan reaction' before signing striker
Last updated on .From the section Football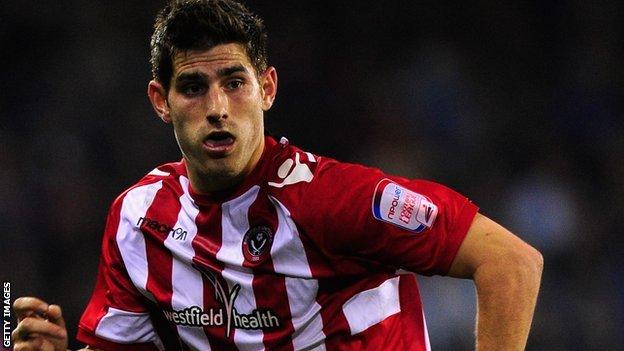 Clubs thinking of signing convicted rapist Ched Evans will have to carefully gauge fan opinion, according to Oldham Athletic director Barry Owen - who was instrumental in bringing a jailed footballer to his side in 2007.
"One of the major points for us was that Lee had shown a lot of repentance for what he had done. That played a big role in our thinking."
He added: "He was very remorseful. We put it out in the press that we had interest so we could gauge the fans' reaction. The majority of them were OK with it."
Hughes, now 38 and playing for Forest Green Rovers, joined League One Latics after serving half his sentence and went on to score 25 goals in 51 league appearances for the club.
Wales striker Evans, 25, was jailed for five years in 2012 for raping a 19-year-old woman and is due for release this week. He has been linked with a return to League One's Sheffield United.
The Yorkshire club, who released the player following his conviction but did not sack him, have refused to comment - although manager Nigel Clough admitted there had been talks.
At his trial, Evans denied raping the woman at a Premier Inn near Rhyl, Denbighshire, in May 2011.
More than 140,000 people have now signed a petition demanding the club does not re-employ Evans.
Lee Hughes factfile
1997: Signs for West Bromwich Albion for £350,000 after announcing himself at Kidderminster Harriers
2001: Leaves The Hawthorns for Coventry City for a fee of around £5m after scoring 86 goals for the Baggies
2002: Rejoins West Brom for £2.5m
2003: Crashes his Mercedes into a Renault and fails to turn himself into police for 36 hours. Father-of-four Douglas Graham, a passenger in the Renault, is killed
2004: Jailed for six years after being found guilty of causing death by dangerous driving following a six-day trial in which the jury took 90 minutes to reach a verdict
2007: Signs for Oldham Athletic and scores 25 goals in 51 starts for the League One club before stints at Blackpool, Notts County and Port Vale
2014: Joins Conference outfit Forest Green for whom he has scored 14 goals in 26 starts
Professional Footballers' Association chief Gordon Taylor has backed Evans' return, stating there is no law that prevents him from going back to work.
Owen said Oldham had used similar logic when signing ex-West Brom and Coventry striker Hughes.
"We took the view that under the terms of the Rehabilitation of Offenders Act he was entitled to be employed," he explained.
"We were not prepared to enter into the moral argument. We had the firm belief that the justice system had decreed what punishment Lee should serve and he served that. We were not condoning his actions but the law was quite specific - he was entitled to work."
Owen, however, believes each case is different.
Oldham Athletic director Barry Owen on signing Lee Hughes in 2007
"We met him in prison. It was informal and not behind screens. He was very receptive to our offer and keen to sign."
"My own personal view, and this is not the view of Oldham Athletic, is that it's a very different situation with Ched Evans," he said. "A lot depends on the public perception of the crime and the type of offence.
"It's up to Sheffield United what they do. What I would say is that the law states that this man can be employed again."
Owen also warned that if Evans did return to the game he would face hostile environments.
"Lee got some abuse at opposition grounds but he handled it well," he said. "At Millwall they were booing him before he'd touched the ball and he got a hat-trick so you can imagine how well that went down.
"Lee was no trouble to the club and he scored a lot of goals. He ended up being well-liked and I think he won over some of those who had criticised the signing, although there was a small percentage of fans who did not accept it - but they were never going to change their opinions."
Opinion among Blades supporters is thought to be split. At a recent match some fans chanted their support for Evans while callers to BBC Radio Sheffield have said they will give up their season tickets if Evans returns.