Robbie Savage - QPR's work-rate is their biggest problem
Last updated on .From the section Football

QPR have made an awful start to the season and their biggest problem has been their work-rate. They host Liverpool on Sunday and it looks like it is a good time for the Reds to be going to Loftus Road.
What was a real worry was hearing QPR manager Harry Redknapp talk about how his players are not fit enough at this stage of the season.
That shocked me, because energy is the very least they will need as a newly-promoted team if they are going to avoid relegation.
If QPR are also not good enough technically, then how on earth are they going to stay up?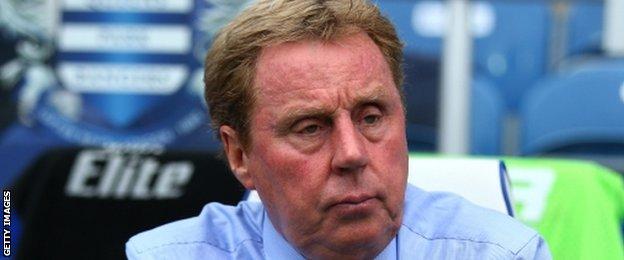 They are bottom of the table after seven games and Redknapp clearly has a lot to sort out.
One of QPR's strengths when they got promoted last season was their defence - they conceded only 44 goals in 46 Championship games and kept 17 clean sheets, including a club record run of eight games between August and October.
That was with Richard Dunne and Nedum Onuoha or Clint Hill at centre-back. Since Redknapp revamped his defence over the summer, and built it around Rio Ferdinand, they have been far less secure.
It must be difficult for Ferdinand, going from a team like Manchester United and being on the front foot most of the time to somewhere like QPR where he is under a lot more pressure and does not get the chance to bring the ball out of defence.
Redknapp started the season with three centre-halves but has switched to 4-4-2 and, at the moment, Ferdinand and Steven Caulker have not clicked as a defensive pairing. It means Rob Green has made more saves - 26 - than any other Premier League goalkeeper and only Everton have conceded more goals.
QPR centre-backs in the Premier League 2014-15

Who played together

Minutes

Conceded

Ferdinand-Dunne-Caulker

123

4

Ferdinand-Onuoha-Caulker

45

1

Ferdinand-Caulker

462

11

Data: Opta
There are problems in attack too, despite Redknapp having some quality attacking players in his squad.
QPR have had 70 shots in their first seven games, the joint fifth-highest total in the division, but only 24 of those have been on target and their ratio of shots to goals - they have only scored four in total - is the lowest in the Premier League.
QPR in the Premier League 2014-15 (and ranking)

Shots

On target

Goals

Shots/Goals

70 (=5th)

24 (=15th)

4 (=18th)

17.4 (20th)

Data: Opta
The whole situation reminds me of two seasons ago when Mark Hughes was sacked in November and Redknapp came in.
I think that was the wrong decision because I believe Hughes would have kept QPR up but if results don't pick up in the next few weeks - and QPR have to play Chelsea and Manchester City at the start of November - then QPR owner Tony Fernandes has another decision to make.
It is a very difficult call. Redknapp looks a bit tired to me but he has stacks of experience and you could not say for sure that he cannot keep QPR up. Things are not working at the moment but I would be surprised if Fernandes is so hasty again.
Footballers don't have a clue about the real price of football
I understand after reading the BBC's Price of Football study why there is concern over the rising cost of watching football in this country but, for most Premier League players, it is not something they are ever going to worry about.
To be completely honest, during my 20-year playing career, I never once thought about how much it was costing fans to go to games.
Other players might have been different, but I did not meet any.
I never discussed the issue with any of my team-mates at any of my clubs and, whoever I was playing for, ticket prices did not cross my mind once, let alone how much the pies or the programme were costing.
I cannot imagine things have changed much in the last few years.
Yes, someone like Everton forward Steven Naismith donates tickets to unemployed fans who cannot afford to go to Toffees games, but he must be in a tiny minority.
The truth is that most Premier League players live in a bubble. If you ask most of them what a ticket costs, they would not have a clue.
Players get the best deal they can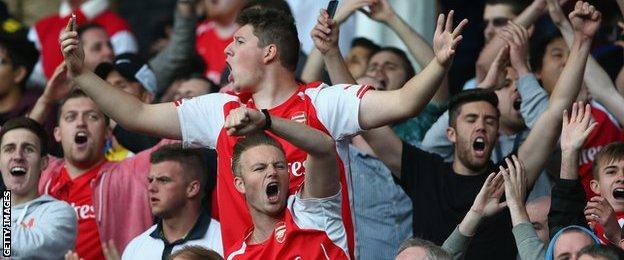 Even if you told them that a fan has to pay £100 to get in, players are more likely to say 'only £100?' than think it is expensive.
You have to remember that most of them would not know what a pint of milk costs either.
The big stars at the top clubs will have their own executive boxes for their family and friends to watch them, but no Premier League players ever have to buy tickets in the same way fans do.
At the teams I played for, if I was in the match-day squad then I got between four and six complimentary tickets. If, for whatever reason, I needed more, I could always get some from the players who would not be using theirs.
I appreciate I was in a fortunate position but, if someone had come up to me when I was a player and said that ticket prices are too high, I would not have been bothered at all.
There is a link between players' wages and the price of tickets but I cannot think of any player, myself included, who thought about that when they were negotiating a contract. I was always thinking of myself.
I don't feel guilty about saying that because I don't think you can blame anybody for getting the best deal that he can. Outside of football, it would not be seen as a problem.
And, even knowing what I do now, I have no regrets about the wages I was on.
Premier League needs to protect 'home' fans
An individual player is always going to take what a club is prepared to pay him and I think the only time he should feel bad about it is when he has not given 100% in a game.
That was never an issue for me. I might have been a bit flash and drove expensive cars but my relationship with the fans mattered to me at all of my clubs and I loved feeding off their support and passion, and giving everything I could.
The atmosphere they created made such a difference and I always appreciated that, but I never made the connection between the size of the crowd and what they were being asked to pay. None of my team-mates did either.
Not once when I ran out on to the pitch before a game did I think 'oh, only 20,000 here today - if it wasn't for ticket prices, there might be more in the ground'.
I had no idea what it was like for the working-class man with a family to go to a match once or twice a week, put petrol in the car to get to the stadium and buy food for his kids when he is there.
That might be one of the reasons Rio Ferdinand criticised Manchester City fans on Twitter for not filling their ground for their Champions League game with Roma in September.

Players do not automatically consider that there might be a financial reason for not going to games, because they never pay themselves.
Because of my media work, I still do not do that very often now I have retired from playing - the last time I paid for a ticket was to watch Wrexham play at Macclesfield in the Conference last season.
But I now understand more about how the prices have hit the man on the street, especially the next generation of football fans who have never been to a Premier League game.
There is more TV money coming into the top level of the English game than ever before but the Premier League seems to be more interested in taking their 'brand' overseas rather than looking after the supporters in this country, who should be the priority.
They are talking about playing one game a season abroad but if you are going to do something different then why not have a game where you charge a knockdown price so that families can get in for next to nothing and watch a game live.
For me, that would be much more beneficial.
Club v country issue will not go away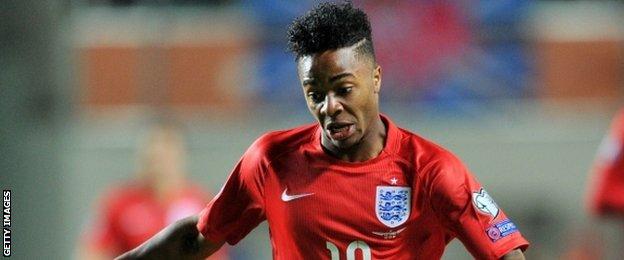 I think Raheem Sterling deserves credit for having the courage to approach England manager Roy Hodgson before Sunday's Euro 2016 qualifier with Estonia and say 'I don't feel right'.
Fair play to Sterling - I did not lack confidence when I was a kid but I could never have done that.
But, although he was right to do it and ask not to start, his excuse was the wrong one. I was gobsmacked to hear a 19-year-old talking about being "tired" in October.
Yes, he has played more games than this time last season but, with the progress he has made, you would expect him to.
Sterling's boss at Liverpool, Brendan Rodgers, does make a fair point about some players needing a two-day recovery period.
Later on in my career, I would feel great the day after a game but, by the second day, I could not move - there were times when I could not get out of bed because of delayed onset muscle soreness.
But what I don't understand is how that can be affecting Raheem now.
At the age of 19, I could have jumped out of bed every day and played a full game. Sterling had only played 45 minutes against San Marino on Thursday.
The situation turned into a public row between Hodgson and Rodgers, and it could undoubtedly have been handled a lot better.
I can totally understand why Rodgers is concerned about Sterling's fitness because all club managers want their players available to play for them.
I have no idea if Rodgers put Sterling under pressure not to play, but that is something I remember happening to me when I was called up by Wales.
Your club manager might be arguing you might not be quite right and it is difficult to weigh up because you feel you are jeopardising your future with your club or your country depending on what you do.
In the end, you have to mentally strong and do what you want to do. This week might not be the last time that Sterling has to make that call.
Robbie Savage was speaking to BBC Sport's Chris Bevan