Price of Football: 10 things we've learned from the BBC study
Last updated on .From the section Football567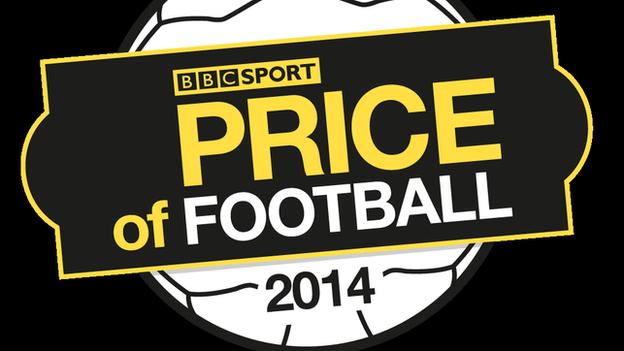 BBC Sport's fourth Price of Football study prompted a national debate about ticket prices, not to mention the sums clubs charge for pies and cups of tea.
Football club owners, players, pundits and fans all had their say, but what did we learn? Here, we take a look at some of the key talking points.
It might not be as bad as it seems
With information from 207 clubs across the United Kingdom and mainland Europe, the study threw up a lot of data and a lot of trends. For example, it showed that the cheapest match-day ticket in the top four divisions of English football had increased 13% since 2011.
Critics of the hikes accused clubs of fleecing fans and demanded action. Yet some clubs insist the study did not tell the whole picture. Everton claimed clubs were characterised as "greedy and exploitative" and felt the study failed to highlight the good work a lot of them did to make football accessible to all.
According to the Toffees, focusing on the cheapest and most expensive ticket prices was unfair and insisted clubs were working hard to make football more affordable.
Not everyone is enraged
Arsenal fans may have to pay as much as £2,013 for a season ticket and £97 for a match-day ticket, but that does not mean they are all frothing at the mouth, demanding reductions.
At the Emirates, a season ticket gets you 26 games, as opposed to 19 at most Premier League clubs, while the club have dropped the price of last season's most expensive ticket from £126 to £97.
Lois Langton, chair of the Independent Arsenal Supporters' Association, told BBC London 94.9: "We have done a lot of work with Arsenal to try and make sure that people from all walks of life can get into the Emirates to watch matches."
BBC Sport also spoke to fans at Newcastle United, a lot of whom were very positive about the efforts the club was making to ensure fans were able to watch games at St James' Park.
The BBC Sport website also asked fans if they felt they got value for money. A poll of Sportsday Live readers showed that 24.9% felt they got value for money from their club.
The north-south divide exists
You have heard about the north-south divide when it comes to economical and cultural differences right? Well, now there's a north-south split in the Premier League.
The north-east is the least costly place to watch Premier League action thanks to Newcastle United, whose cheapest match-day ticket is just £15. The Midlands is not far behind, with Leicester City, Aston Villa, Stoke City and West Bromwich Albion all offering competitive prices.
But deep pockets are required in the capital, thanks mainly to Chelsea's £50 'cheapest' match-day ticket. The north-west is also pretty costly, with even Burnley charging a minimum £35 to watch a game.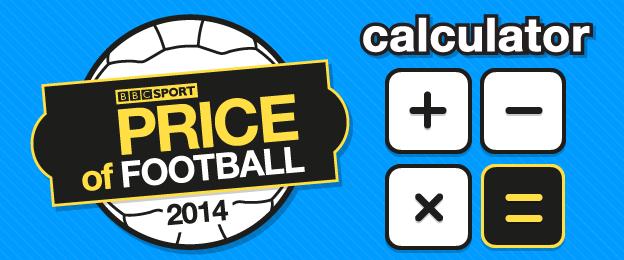 Visit the Price of Football calculator to see how much you spend supporting your team.
There's no such thing as average
You might think working out the average price of tickets would be easy, but there's no such thing as an "average price" - anywhere. The prices go up and down depending on the opposition, your age and how far in advance you buy your tickets.
Clubs are now offering a greater range of prices and offers than ever. At Conference side Wrexham, just a third of the club's ticket revenue comes on match day. At Elgin, in Scotland's League Two, kids under the age of 16 pay their age in pounds for a season ticket.
To make it more complicated, there's no such thing as a "junior ticket" either. Some clubs class under-12s as children, some say it is under-16s. For others, it's anyone under the age of 18.
For the sake of comparable figures across 176 clubs, the Price of Football used the highest and lowest prices for match-day and season tickets.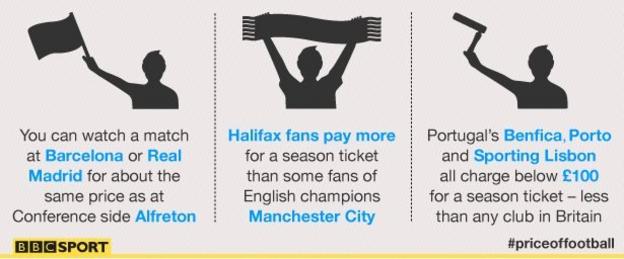 Some players care, some don't
Manchester City midfielder Frank Lampard thinks players do have sympathy for fans. He told BBC Radio 5 live: "To think that players are blind to it and don't care is certainly wrong."
He added that, during his 13 years at Chelsea, he and his team-mates often helped supporters with coach journeys to away matches and with tickets for games. Asked if he would be prepared to take a pay cut of 1.5-2% if it would help provide children with free tickets to matches, the 36-year-old said: "Of course you would."
But retired footballer Robbie Savage wrote in his BBC Sport column that: "To be completely honest, during my 20-year playing career, I never once thought about how much it was costing fans to go to games. Other players might have been different, but I did not meet any."
The game could become a political football
Sports Minister Helen Grant MP told BBC sports editor Dan Roan that she is "cross" and "concerned" at the continued price rises and has set up a task force to address the issue.
Shadow Sports Minister Clive Efford MP, who has been canvassing fans for their opinions, registered his concern at the study's findings in a tweet, which Labour leader Ed Miliband retweeted to his 349,000 followers.
With just over six months until the General Election, do not be too surprised if debates about football pop up in Westminster as well as on BBC Radio 5 live's weekly 606 programme.
It's become a national debate
The Price of Football got the nation talking. It was in your local and national newspaper, as well as on radio and television.
One place thousands of fans took to to voice their opinions was social media. "Outrage! But us mugs still pay week in week out," wrote West Ham fan Pep Harris on Twitter. Reading supporter Greg Double posted this question: "This #PriceofFootball has everyone furious, so what are we going to do about it?"
Numerous posts urged fans to stop moaning and simply stop going to games if they felt so strongly. Around 17,000 of you used the Price of Football hashtag, making it the number one trend in the UK for large parts of the day.
Arsenal came in for some criticism and the #thingscheaperthanarsenaltickets was used by some to poke fun.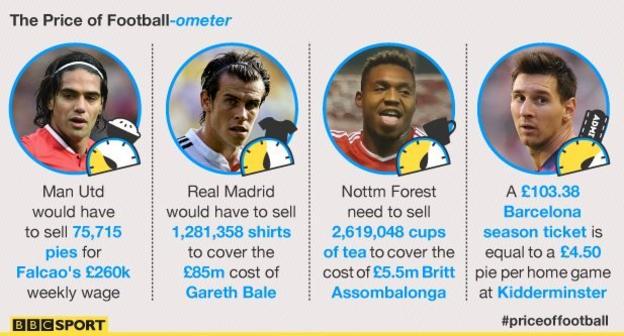 And one with an international flavour
One of the study's jaw-dropping facts was that you can watch a match at Barcelona or Real Madrid for the same price as Conference side Alfreton. In fact, you can buy a season ticket at the Nou Camp for £103, cheaper than at any of the clubs in the top four divisions of English football.
We collected loads of other data that helped us compare prices in Britain with prices in mainland Europe, too. It came as a big surprise to learn that AC Milan's most expensive season ticket is around £3,600 and that Lille charge less than £6 to watch a game.
In total, we contacted 31 clubs in 10 countries - Belgium, Denmark, France, Germany, Italy, the Netherlands, Norway, Portugal, Spain and Sweden.
Pie charts are complicated, too
Critics of the most expensive pie in our study would say it does not have a crust and is over-priced at £4.50. But supporters of the Kidderminster Harriers cottage pie - like Matthew Rogerson - say it's a "bargain".
Others accused BBC Sport of filling people with false information about the "savoury sensation", so we are happy to put the record straight and let you judge for yourself. It has got "lashings of gravy" and weighs 700g, so maybe it is more than just a pie. It certainly looks like it.
The club's catering manager, Brian Murdoch, says: "Our pies cost more because they are made of meat, vegetables and potatoes rather than the usual pastry pie sold at other grounds." Pie snobbery. We like it.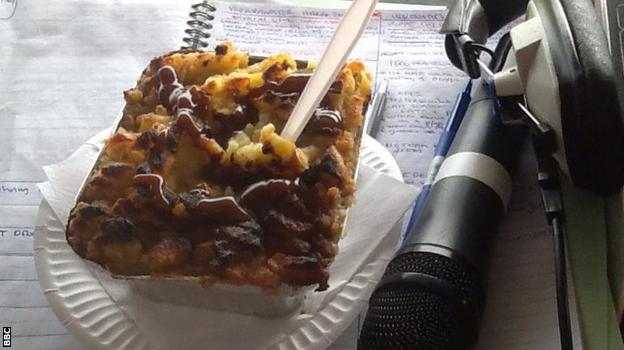 We will be doing it again next year
The Price of Football gets bigger every year we do it. Clubs might hate it, while politicians see it as an opportunity to grab some headlines, but fans seem to like it.
We think the study gives people the chance to discuss what is a highly emotive subject. And if you have any ideas for making it even better, we would like to hear them.