Newcastle United: Fans win St James' Park 'protection' order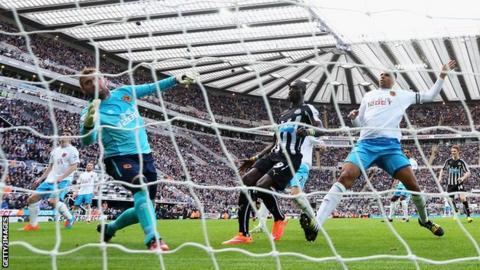 Newcastle United fans have won their bid to protect St James' Park in case the stadium is ever put up for sale.
The club's home since 1892 will be labelled an Asset Of Community Value.
The application by the Newcastle United Supporters Trust (NUST) was approved by the council and means the group has the right to bid for it if owner Mike Ashley tries to sell.
"The importance of St James' Park to Newcastle United is known throughout the world," said a NUST statement.
It added: "This means St James' Park cannot be sold without the local community being told about it, and them being given the opportunity to bid for it themselves."
What is an Asset of Community Value?
A building, or other land, is an asset of community value if its main use is, or has recently been, to "further the social wellbeing or social interests of the local community" and it could do so in the future
The request must come from a voluntary or community body with a local connection and relate to land in the local authority's area, or in the neighbouring local authority's area
The listing lasts for five years and also includes - should the stadium be put up for sale - a 'right to bid', which can be lodged by the group concerned within a period of six weeks, with finance secured in a period of up to four-and-a-half months
The ability to list buildings or land as an Asset of Community Value was enabled by the Localism Act in 2011.
Oxford United's Kassam Stadium was the first ground to be protected in 2013.
Since then several fans' groups have also been successful in winning community asset rulings, with Manchester United's Old Trafford and Liverpool's Anfield among the stadiums protected.
Newcastle owner Ashley has often had an uneasy relationship with Magpies' fans since buying the club in 2007.
He put the club up for sale just 16 months after his £134.4m takeover and sparked controversy in 2009 by announcing plans to sell the naming rights for the 54,205-seater stadium, which is the third largest in England behind Old Trafford and Arsenal's Emirates Stadium.
Ashley caused further debate when he later announced he would temporarily rename St James' Park the Sports Direct Arena, after the company he owns.
Making St James' Park a community asset means that if the stadium is put up for sale, NUST has the right to lodge a bid within six weeks, and has four-and-a-half months to secure funding.