Everton: 'We are committed to providing value for money'
Last updated on .From the section Football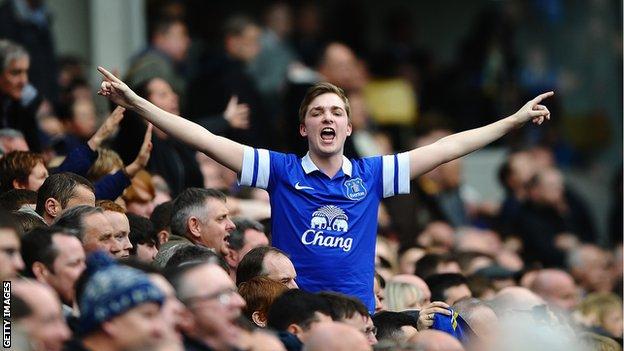 Everton's chief executive Robert Elstone insists football clubs think long and hard about ticket prices.
The BBC's Price of Football study revealed that the average price of the cheapest tickets in English football since 2011 had increased at almost twice the rate of the cost of living.
But Elstone rejects what he says is the "strong inference that clubs are greedy and exploitative".
"Almost every club is totally committed to providing value for money," he said.
Everton's prices

Cheapest season ticket

Most expensive

Cheapest match-day ticket

Most expensive

£444.00

£719.00

£33.00

£47.00
The BBC study found the average price of the cheapest match-day ticket from the Premier League to League Two is £21.49. That is an increase of 13% since 2011, compared to a 6.8% rise in the cost of living.
Minister for Sport Helen Grant said she was "really concerned" and added: "I can see why fans are cross. I'm cross."
But Elstone says it is misleading to study only the highs and lows of ticket prices.
"All football clubs think long and hard about ticket prices and making football accessible to the widest possible cross-section of society," he said.
"Over the past five years, the amount of money we take at Everton per seat - all games and all seats - has reduced by 15% when compared to the rate of inflation."
All figures relating to Everton in the BBC's study were supplied by the club.
How Everton argue their 'value for money' case
One in five (17%) of the club's 27,500 season ticket holders pay less than £10 per game, representing 1 in 8 (13%) of the paying Goodison attendance.
Nine out of 10 Everton season ticket holders buy early and benefit from an average discount of £85. The highest price these fans pay for a season ticket is £599.
Only 500 supporters (1.3% of the average gate) paid the reported £719 after the early-bird window closed.
At Saturday's game against Aston Villa, 60% of the gate will be paying £30 or less.