Price of Football: Coventry City scrap £2 rise after BBC survey
Last updated on .From the section Football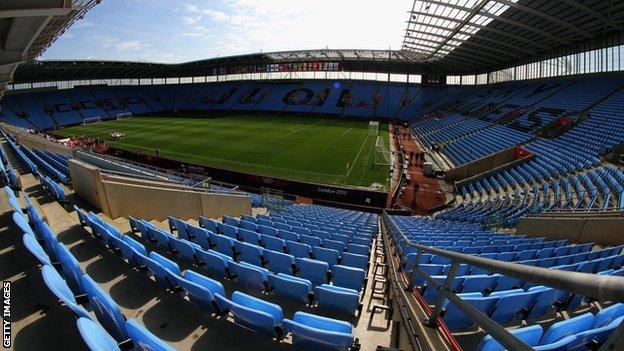 Coventry City have scrapped a £2 matchday ticket price increase in response to the BBC Price of Football study and supporter feedback.
The League One club has also reduced the price of beer sold in the Ricoh Arena by 50p.
Club chief executive Steve Waggott said: "The price of football in general has been in the news this week.
"As a club we are very keen to find ways to make attending our matches more affordable for supporters."
What the cut means to Coventry's prices
Adult tickets in the Family Zone are £18, concessions are £13, juniors are £9, JSBs over 12 are £5 and JSBs under 12 are free
In the Standard Zone, adult tickets are £22, concessions are £15, juniors are £11, JSBs over 12 are £7 and JSBs under 12 are £3
In the Premium Zone, adult tickets are £25, concessions are £18, juniors are £13, JSBs over 12 are £8 and JSBs under 12 are £4
Waggott continued: "The matchday price increase had been in place to encourage more supporters to buy in advance.
"We've done a great deal already. Our Junior Sky Blues - who are under 12 - can attend for free or sign up for a free season ticket in the Family Zone when they are accompanied by an adult. And our adult season tickets and match packages dramatically reduce the 'per-game' price.
"But this is an issue we are going to continue to look at because football is about the supporters and should be accessible to as many people as possible."
City have only just returned to the Ricoh Arena after a dispute over rent led to them playing "home" games at Northampton Town's Sixfields Stadium.