Shelley Kerr is making her mark at University of Stirling
By Emily Croydon & Paul Garrity
BBC Sport
Last updated on .From the section Football
Since becoming the first woman to manage a British senior men's team, Shelley Kerr has been described as a pioneer and trailblazer.
"I don't mean to be disrespectful but I don't really care about the history attached to it," Kerr told BBC Sport. "It's more about me doing the best job that I can."
Kerr and her players could be forgiven for being dazzled by the media glare that has come their way since she took control but, in fact, so far it is a story of success.
When Kerr took the job in August, the team were 13th in Scotland's fifth tier with no points after three games. Ten games, and six successive league wins later, they are fourth.
Kerr, who holds a Uefa Pro Licence, is no stranger to success. She led Arsenal Ladies to three trophies, the last of which was the FA Cup in June, just a week after she announced she would be leaving the club.
Shelley Kerr's coaching career

2004:

Kilmarnock

2009-2013:

Scotland U19's

2007-2008:

Hibernian

2013-2014:

Arsenal

2008-2010:

Spartans

2014:

University of Stirling
After accepting a provisional offer to study a Masters in Sports Management at the University of Stirling, Kerr learned the job of manager of the university football team was about to be advertised.
She submitted her CV and was invited to interview, before being given the job ahead of 14 other candidates - all men.
"Shelley had the very highest level of coaching qualifications: a Uefa Pro Licence," said sports performance manager Raleigh Gowrie. "That helped stand her out.
"She had experience of coaching at the highest level, including coaching in the Europa League, albeit in the women's game.
"The interview panel were impressed by her CV and the vision she demonstrated for the club."
Former Portugal international Helena Costa became the first woman to manage a professional men's team in the top two tiers of European football when she took control at French second division side Clermont Foot in May.
She was replaced by ex-France captain Corinne Diacre before she had taken charge of a match.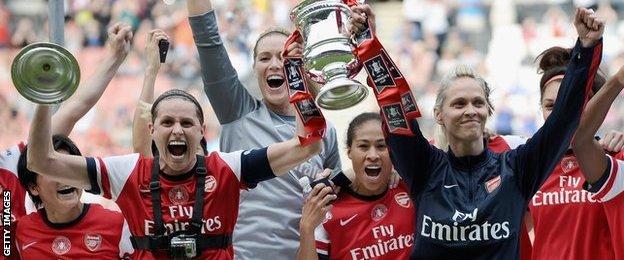 Some sections of the media suggested the appointments were nothing but a publicity stunt. But Gowrie is quick to dispel similar talk about Kerr's selection.
"Clearly it's interesting and clearly it's news but for us she's the right person for the job," he said.
"This is a university with serious people doing serious things and Shelley fits into that perfectly. She has the seal of approval from the players and she is measured on her performance like any other member of staff."
Kerr's appointment certainly got people talking, including the players who took to the internet to research her career.
"I was a bit surprised at first, but since she's been here she's been very good," said striker Chris Geddes, who has scored 10 goals since Kerr took charge.
"We don't even bother now - she's just the manager of the team. I didn't score many goals in the first few games so she must be helping me as a player."
Raleigh Gowrie, University of Stirling
"It would be no surprise to me if a bigger senior club came in for her within two or three years."
Kerr is one of only a handful of women in significant managerial positions in British football. After 15 years with Hope Powell in charge, the England women's team is now led by a man, Mark Sampson, while Chelsea's Emma Hayes is the only woman managing in the top tier of the FA Women's Super League.
Kerr believes foundations can be put in place to help women build careers as managers.
"There are many players who play at the top level who have got great credentials to be the next best coaches," said Kerr. "It's about identifying key players early, if they're interested, and trying to mentor them and get them the right qualifications.
"For me females need to have female role models and I hope I can be one."
Kerr suggests longer playing careers and the amount of time it takes to earn coaching badges may be factors in why so few women come through, but says there are people ready to succeed.
"Kelly Smith at Arsenal has done a fantastic job combining playing and coaching," she said.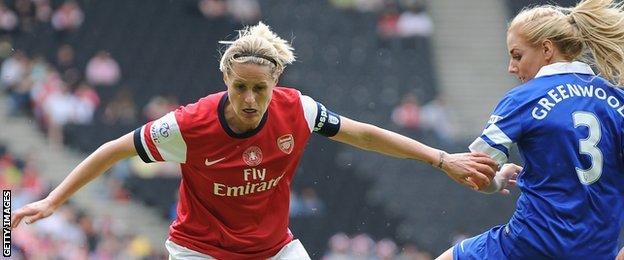 "That's the beauty of succession planning, where you can try and bridge that gap and put a programme in place to get to that level."
Kerr spent four years managing the Scottish women's Under-19 team, and believes this pathway can work for aspiring female managers.
"Jayne Ludlow has been appointed manager of the Wales women's team," Kerr added. "She has been mentored by the Wales governing body.
"She's been a youth national coach and had experience at Reading. So those kinds of things need to be done to progress female coaching."
Kerr's experience of managing in Scotland's fifth tier seems to be going well, but Gowrie believes it may only be the first step for her.
"It would be no surprise to me if a bigger senior club came in for her within two or three years," said Gowrie.
"She has a desire to succeed, she's very knowledgeable and is well respected in the game at all levels. I think this is just her first opportunity to be able to demonstrate her competencies in the men's game."
"I'm an ambitious person, I'm very driven," said Kerr.
"Everyone, no matter who they are or where they are, want to work at the highest level and I'm no different."
You can see the full feature on Shelley Kerr's time as manager of the University of Stirling on Saturday Sportsday, BBC One from 12.50pm on Saturday, 18 October.