Bristol Academy: Barcelona 'name' not important, says Edmondson
Last updated on .From the section Football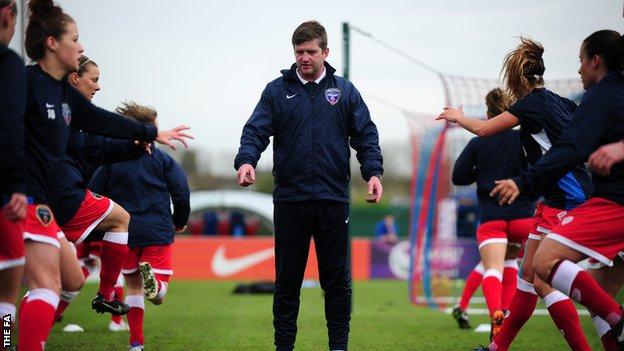 Bristol Academy must not be overawed by the prospect of playing Barcelona in the Women's Champions League, says manager Dave Edmondson.
It is the first time the Vixens have reached the last 16 of the competition.
The first leg will be played in Spain - at the training facility of Barcelona men's team - on 8 or 9 November with the return leg at Bristol City's Ashton Gate the following week.
"We need to go and play the game and not the name," he told BBC Sport.
Barcelona have won six domestic trophies in fours years, including the women's top-flight Primera Division on three occasions.
Edmondson continued: "One thing that drives me mad, and it's one thing Manchester City tried to do, is that they try to make it a big event, more than a game.
"They want you walking through the stadium and looking at things and all of sudden you think: 'Oh my God - look who we are playing'.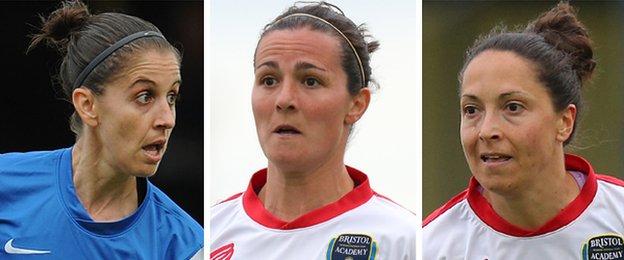 "When you get there, the focus needs to be on winning the game and being a professional team. We may not get paid that way but the attitude and the professionalism has to be there."
Bristol finished runners-up in the Women's Super League last season, earning them a place in the Champions League for the second time in their history.
They beat Raheny United 2-1 at home on Thursday, 6-1 on aggregate, to progress to the last 16 and are now the last remaining English team in the competition, following Liverpool Ladies' exit at the hands of Linkopings.
And Vixens club captain Corinne Yorston is hoping the visit of Barcelona will attract a bigger fan base for their home leg.
"We had a good crowd three years ago in the Champions League but we really want to break our record," said the defender.
"We'll get our regular fans but hopefully others will want to see us playing against Barcelona.
"Hopefully we can make it a European football night similar to how it is in the men's game."