Labour proposes greater ownership powers for football fans
By Dan Roan & Matt Slater
BBC Sport
Last updated on .From the section Football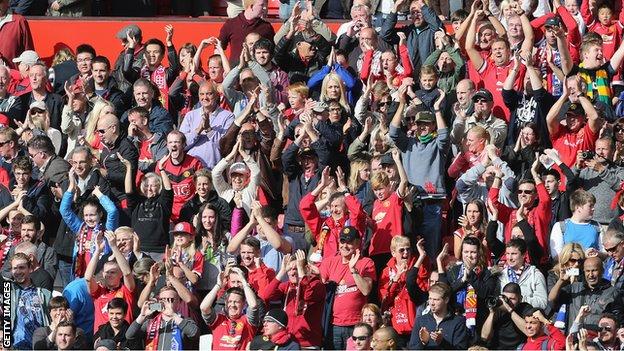 Football fans could have a greater say in the running of their clubs, under radical plans proposed by Labour.
Supporters would have seats on every board and the right to buy a significant slice of a club's shares when its ownership changes.
Labour says it would be "the biggest legislative shake-up in the governance of English and Welsh football clubs since the advent of the game".
Only 14 league clubs currently have fan representatives on their board.
Swansea City are the only Premier League outfit among the 14, with the Swansea City Supporters Trust owning 20% of the club.
But if Labour wins next year's General Election, fans' trusts could be able to appoint and remove up to a quarter - and not less than two - of a club's directors.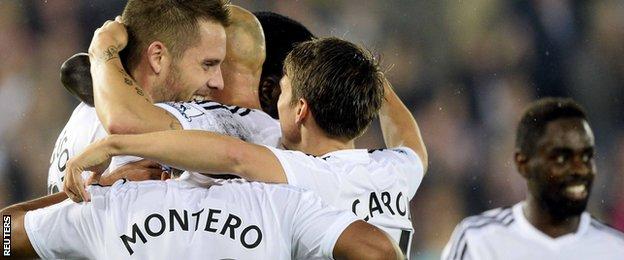 Supporters would not be able to block takeovers or change corporate strategy, but could obtain financial and commercial information about the club.
Fans could also purchase up to 10% of the shares when a club changes ownership. The buyer acquiring control - defined as 30% - would have to offer the trust up to a tenth of the shares they were purchasing for 240 days following the deal.
This option would be capped once a trust had acquired 10% of the club's shares, though that would not prevent it from buying more shares if it wanted.
The Government this week revealed plans for the establishment of an 'Expert Group' of football administrators, providing a platform for issues that affect fans.
Sports Minister Helen Grant MP told BBC Sport she was "concerned and cross" about the rising cost of ticket prices.
But Shadow Sports Minister Clive Efford MP said Labour's plans are the only way to ensure supporters have a say in how their club is run.
"Only this week, the BBC's Price of Football survey showed how average prices have risen at almost twice the rate of the cost of living since 2011," he said.
"Too often fans are treated like an after-thought as ticket prices are hiked-up, grounds relocated and clubs burdened with debt or the threat of bankruptcy. We have reached a tipping point."
Labour says it has received expert legal advice confirming that the reforms are compatible with EU law.
Trusts would need to become 'Industrial and Provident Societies' and would be required to meet certain governance standards.
Grant, Conservative MP for Maidstone and Weald, responded to Labour's proposals by repeating the Government's commitment to helping supporters have "better engagement" with their clubs.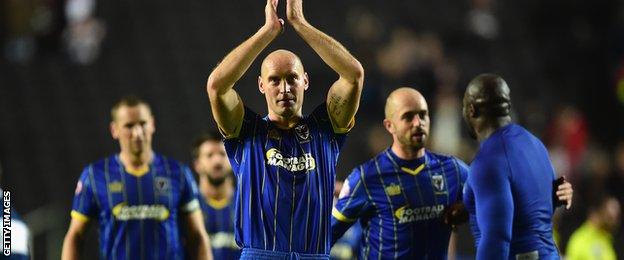 She said the expert working group would start work "imminently" and include representatives from across football.
Eight of the 92 clubs currently have trusts that own more than 10%, while League Two's Exeter City, Portsmouth, Wimbledon and Wycombe Wanderers are wholly owned by their fans.
Supporters Direct, the organisation which advises fans on how to set up trusts, welcomed the proposals, particularly the right to appoint directors.
"There has always been a resistance to measures that would actually increase the role of fans [but] we have seen the success of clubs where ownership has been shared willingly and openly with supporters' trusts," it said.
The Manchester United Supporters Trust (MUST) had to give up its stake when the Old Trafford club was purchased by the Glazer family in 2005. They cautiously welcomed the proposals.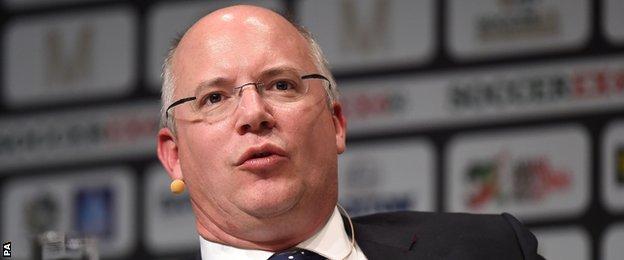 "Football supporters have been promised a lot by successive governments but, in reality, have seen nothing of significance change," said MUST.
"We hope today is the start of each party laying out its clear vision for football beyond 2015 and how it will protect the rights of supporters."
However, Football League chief executive Shaun Harvey was wary, pointing out that most club owners are fans, too.
"We have to be careful not to create barriers that act as a disincentive to the next generation of owners and directors, as the game will suffer as a consequence," he said.
The Premier League sounded a more neutral note, welcoming "the invitation to discuss" Labour's ideas, while pointing out its own measures to tackle club debt, bring in supporter liaison officers and its financial backing for the Football Supporters' Federation and Supporters Direct.