Kilmarnock bonus row: John Rankin wants change in system
Last updated on .From the section Football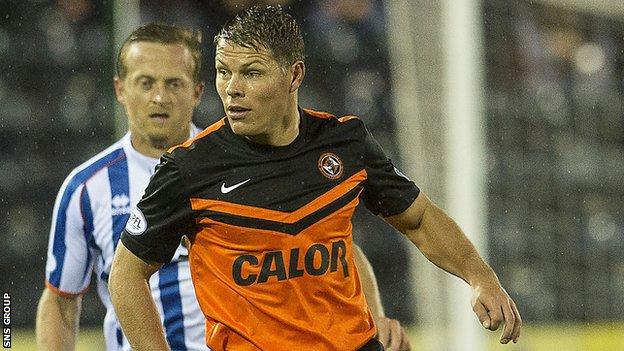 PFA Scotland chairman John Rankin is calling for players' bonus contracts to be lodged with the Scottish FA.
"A structure should be in place before a ball is kicked at the beginning of the season, so there is no going back," Rankin told BBC Scotland.
"All contracts are registered with the SFA. Why can't bonus contracts be registered with the SFA as well?"
Kilmarnock chairman Michael Johnston announced that a meeting with players last week had led to the the club's original proposal on end-of-season bonuses being accepted.
However, this claim was quickly dismissed by PFA Scotland chief executive Fraser Wishart, who insisted "no understanding was reached", adding: "The players in attendance made their position clear in the strongest possible terms".
PFA chairman John Rankin
"The days of silly money in Scotland are long gone. Players are realistic on what clubs can pay."
Rankin, 31, argues that clarity is needed in all aspects of players' wages before a new campaign gets underway.
"We need to come together as players, the union and the SFA and reach an agreement over registering the bonus system at the beginning of the season," he continued.
"It's got to the stage where players are uncertain of their payments, whether it's appearance money or bonuses.
"Players are trying to earn a living and provide for their families, the same as everyone else.

"The days of silly money in Scotland are long gone. Players are realistic on what clubs can pay. You're looking out for your best interests but you don't want to cripple a club."
Both Wishart and Rankin took issue with Johnston's comments concerning the 20 players that did not make the meeting on 10 October.
"Only 15 of 35 professional players attended..., so I'm assuming that those who were not there - some for personal reasons, others because of international duty - are content," said the Rugby Park chairman.
Wishart said it was "wrong" to make such an assumption, adding: "For the avoidance of doubt the players have not accepted the club's original proposal and are currently considering their position."
Rankin, who also played for Ross County, Inverness CT and Hibernian, said: "Fair play to the Kilmarnock players because they have stuck together on this.
"To say that they have all agreed to something which they quite clearly haven't is quite disrespectful.
"Hopefully, we can get this sorted out in the coming days."