Neil Lennon: Timing of Celtic exit was right, says new Bolton boss
Last updated on .From the section Football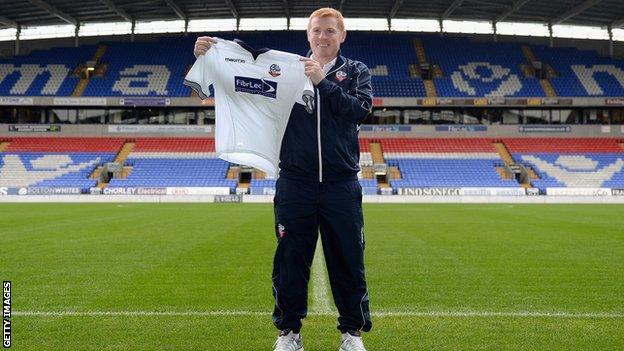 New Bolton Wanderers manager Neil Lennon insists he has had "no regrets" about leaving Celtic earlier this year.
And Lennon secured his next managerial post at Bolton this week following the departure of Dougie Freedman.
"Early on, you have your doubts but I thought about it for so long," Lennon told BBC Radio Scotland's Sportsound programme.
"I've had no regrets. It was a huge wrench to leave but it was the right decision for me from a personal point of view and a professional point of view as well.
"We were moving on some really good players and it was difficult to replace them. Rangers weren't there but then with Hibs and Hearts going as well, the two huge Edinburgh clubs, I just felt the competition was diluting even more. We had won the league by 29 points.

"I just thought, we'd done well. We'd won some silverware, we'd won three titles, we'd been in Europe. Unless we got a huge injection of money to challenge in the Champions League - and I knew that wasn't the reality - then I felt it was a good time to go.
"I'm going to have different challenges every week and that's something that'll really test me as a manager and that's what I was looking for.
"I wanted a different stimulus and a different motivation."
Lennon regards Championship club Bolton as a "sleeping giant" of English football and hopes to boost their fortunes, with Wanderers currently bottom of their division.
"I really enjoyed the break," said Lennon of his four months out of management.
"I really enjoyed the experiences I had with the BBC over the summer. I'm looking forward now to things at Bolton.
"I've taken on a big challenge. There's great potential here."