African women battle age-old opponents
By Farayi Mungazi
BBC Sport
Last updated on .From the section Football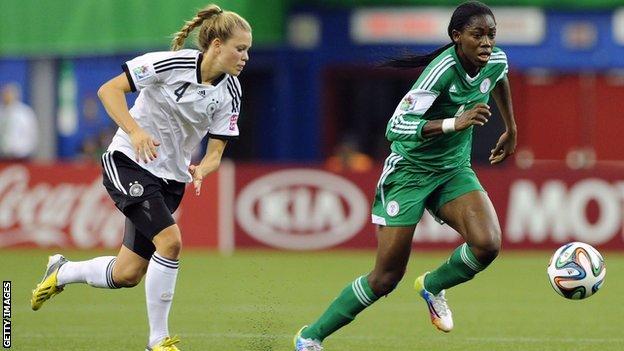 Women's football may be the fastest growing sport in the world but it faces huge challenges in Africa.
More than 20 years after coming into existence, the African Women's Championship still lives in the shadow of the men's Africa Cup of Nations.
Although many people feel that the tournament is moving in the right direction, progress is painfully slow.
The men have it all - the lion's share of media attention and money - while women struggle along on a pittance.
There also remains a perception among much of the public that women's sport in general - and particularly football - is inferior to men's.
"When I started in the 1980s, girls who played football were frowned upon," says Chioma Ajunwa-Opara, who played for Nigeria at the first women's World Cup in 1991.
"During that time it was really difficult. My parents didn't even want me to play football because people thought we were crazy and women's football wasn't really known in Nigeria," Ajunwa-Opara told the BBC from Lagos.
Despite some notable changes over the years, the day-to-day life of a top female footballer has little in common with that of a top male player.
Ajunwa-Opara is disappointed that after all these years female footballers are still demeaned and sidelined.
"I believe that a man is using his brain and two legs to play - the same thing applicable to a woman. So why is it that they believe so much in the men? I don't understand that, these girls should be respected," she said.
Whenever women's football is mentioned, it is usually met with a shake of the head in large parts of Africa, and stories abound of prejudice and stigma around women playing the beautiful game.
"It's not about sport, that's a thing that happens in society - the idea that women can't do certain things," says Peter Alegi, an academic and author of the book, African Soccerscapes: How a Continent Changed the World's Game.
"The fans tend to look down on the women's game. And again, this is not just an African issue - you see it in East Asia, you see this in Latin America - certainly in parts of Europe as well, where the women's game is just discounted."
Alegi believes that unless more is done to encourage talented young girls to give the sport a go and to stay in for the long haul, millions of women in Africa will continue to be actively disenfranchised from the football fields.
The US-based South African academic would also like to see football's corridors of power populated by more women.
"The historical evidence suggests that men have done very little to advance women's sport," he added.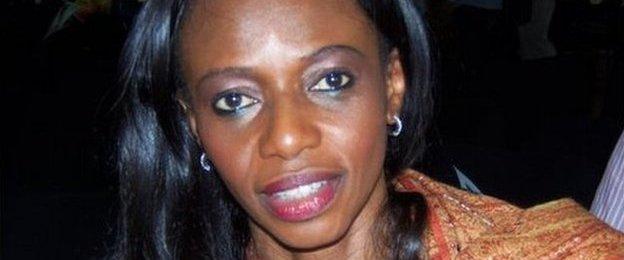 "Women in general are more supportive of each other, and also can see the bigger picture perhaps more effectively than many men, who tend to see football as just an avenue to self-enrichment or to political self-aggrandisement.
"I think there's a greater chance that with women in charge, they're going to be looking at the benefit for the greater good, rather than just their own individual self interest."
Isha Johansen, the president of the Sierra Leone Football Association, told the BBC that the lack of support for girls who want to do more than get married and become mothers is rooted in social and cultural prejudices.
"It's extremely difficult because it's an African perception about the woman's role in society," she said.
"Some things never change, for some it's a culture and for others it's part of their religion - a woman should know their place. But that's not the point because we're in an ever-changing world."