Kilmarnock chairman says 'no latitude' in bonus dispute
By Kenny Crawford
BBC Scotland
Last updated on .From the section Football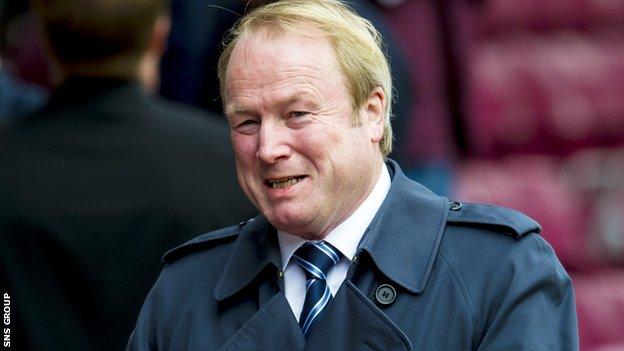 Kilmarnock chairman Michael Johnston is open to further talks on end-of-season player bonuses but stresses that incentive systems are at their maximum.
And Johnston expressed surprise at PFA Scotland's intervention.
"It would be very difficult for us to make any promises about adding money to the bonus scheme because our budget is fully committed," explained Johnston.
The chairman was reluctant to go into contract details but did reveal that players would share a "six-figure sum" at the end of the season if they finish in their current position of fourth in the Premiership.
"The bottom line is that the club has spent the player wage bill," he told BBC Scotland. "There is no latitude to add to bonus schemes.
"We are anxious to see that matter closed off. That's why we had a meeting to discuss why things are structured the way the are."
PFA Scotland chief executive Fraser Wishart issued a statement taking issue with Johnston's claim that the club's original proposal had been accepted following a gathering of 15 players instigated by manager Allan Johnston at Rugby Park last week.
And Wishart contradicted Johnston's assumption that the 20 players not in attendance were "content".
"Allan and I were under the impression that the players were satisfied with the explanation given and that they would now focus on football and finishing as high up the league as possible.
Kilmarnock chairman Michael Johnston
"The players' target should be to finish as high as possible and then they will have a substantial bonus to share amongst them."
"It's also worth pointing out that if we stay where we are in the table, the players would share a six-figure sum.
"The board have supported Allan by expanding the squad beyond where we intended to go and, of course, that has put some pressure on the wage bill.
"And we are probably paying better basic wages than a number of comparable clubs of our size and resources.
"A figure of £20,000 has been bandied around in relation to 10th place but the bonus pot goes up with each position and that is then shared according to how many starts each player makes and how many substitute appearances.
"The £20,000 figure is the bottom figure. The players' target should be to finish as high as possible and then they will have a substantial bonus to share amongst them.
"In the course of last week, none of the players came forward seeking a further discussion. As far as Allan and I were concerned, the meeting provided the clarity that was needed.
"Fraser Wishart wasn't there and hadn't been in touch with me since 16 September. I had emailed him twice in the interim seeking clarification on some points and reiterated that I was happy to meet any players to discuss their concerns.
"We have to live within our means after working so hard to eliminate the club's old debt."