Neil Lennon fears Celtic reputation may follow him to Bolton
Last updated on .From the section Football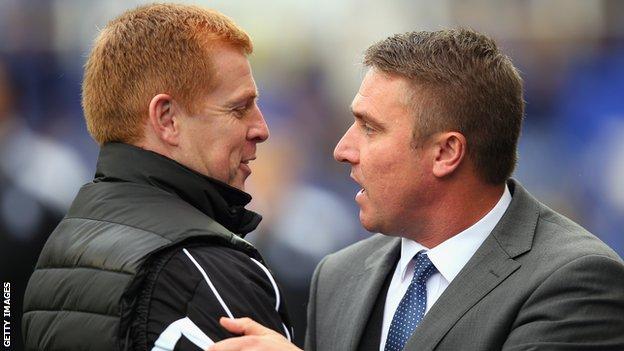 Neil Lennon said he is worried his reputation could cause him problems in England after being sent to the stand in his first game as Bolton manager.
He was sanctioned after stepping on the pitch to tell striker Craig Davies to allow Jay Spearing to take a penalty.
"I hope my reputation from Scotland hasn't preceded me. I haven't been sent off for two years," Lennon said.
"My only misdemeanour today was showing enthusiasm. Officials need to cut people a bit of slack."
Lennon, 43, was banished by referee Mark Haywood after being warned for "consistent infringement" by fourth official Amy Fearn.
The Northern Irishman had walked out of his technical area on a number of occasions before he stepped onto the pitch to tell regular penalty taker Davies to cede duties to midfielder Spearing when Bolton were awarded a spot-kick in the last 10 minutes.
However, the message did not get through, Davies missed and Lennon was sent from the touchline.
"You've got to understand it's my first game, we're in a difficult position and I'm not used to the ways of it down in England," said Lennon, who will appeal against the decision.
"I think it was very, very harsh. It wasn't as if I was remonstrating with anyone... I've seen a lot worse in Scotland."
Lennon served his most recent touchline ban in April 2013 after a suspended suspension was triggered when he was found guilty of using offensive language.
The last time he was sent off before Saturday, though, was in May 2012 when he confronted referee Euan Norris after Celtic lost a Scottish Cup semi-final against Hearts.