Ross Barkley born to play - Everton boss Roberto Martinez
By Phil McNulty
Chief football writer at Goodison Park
Last updated on .From the section Everton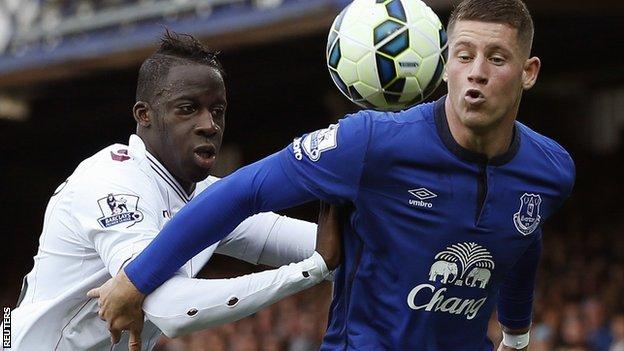 Everton manager Roberto Martinez says England youngster Ross Barkley "was born to play football" after he made an outstanding return from injury in the win against Aston Villa.
"He played with the group this week and he was phenomenal, " said Martinez.
"You watch and just wonder if he was born to play football."
He added: "As humans you are not born to kick a ball but he looks more natural with a ball at his feet than without it. When you looked at some of his movement on the ball, especially early in the game, it just looks like he was born to play football."
"There was no medical risk in starting him, the only worry was how long he could last. He lasted longer than I thought but he looked as though he had been playing all season. He was sensational in that respect."
Barkley set up the goal for Everton's £28m record signing Romelu Lukaku while England defender Leighton Baines set up their first and third goals for Phil Jagielka and Seamus Coleman.
Martinez added: "Eight days ago it was not an option that he would be starting this game but on Thursday he put the ball in the top corner and scored three goals in a little exercise we did. It was his way of letting everybody know he was ready to be on the pitch.
"Everybody knows about his outstanding technical ability but then you look at his exceptional physical ability and he has got both."