Man City: Sergio Aguero needs more minutes to match Messi
By Chris Bevan
BBC Sport at Etihad Stadium
Last updated on .From the section Man City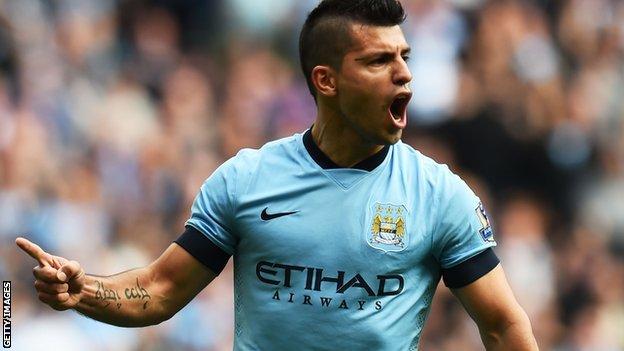 Manchester City striker Sergio Aguero still has work to do to live up to claims that he rivals Lionel Messi or Cristiano Ronaldo as the very best in the world, and it involves more than just maintaining his phenomenal strike-rate.
Whether or not he is a genuine contender for that prize, Aguero cannot stop scoring - those goals took him joint top of this season's top-flight scoring charts with nine in eight matches.
They also improved his minutes-per-goal ratio, already the best in Premier League history, bringing it down from 114 to just 108 minutes between every strike.
Best minutes-per-goal ratio in Premier League history (since 1992)*

Player

Mins played

Mins per goal

Goals

1. Sergio Aguero
6,608
108.3
61

2. Thierry Henry

21,313

121.8

175

3. Ruud van Nistelrooy

12,178

128.2

95

4. Javier Hernandez

4,794

129.6

37

5. Robin van Persie

18,497

136

136

6. Edin Dzeko

6,574

137

48

7. Luis Suarez

9,577

138.8

69

8. Daniel Sturridge

8,078

139.3

58

9. Hernan Crespo

2,813

141

20

10. Alan Shearer

38,183

146.9

260

Data: Opta *for players with 20+ goals
The telling part of that statistic is not the number of goals Aguero has scored, however, but the number of minutes he has missed.
Aguero has been restricted to just over 60% of City's total Premier League game-time since he joined them for £38m in the summer of 2011.
In that period, the only players to have managed more Premier League goals than him, Robin van Persie and Luis Suarez, have played at least 1,800 more minutes - equating to 20 more games.
Top Premier League goalscorers - 2011-12 to present

Player

Total goals

Minutes played

1. Robin van Persie

70

8,537

2. Luis Suarez

65

8,475

3. Sergio Aguero
61
6,608

Data: Opta
This season, City are belatedly finding out what it is like when Aguero stays fit, and so are the opposition.
So far in the 2014-15 campaign, Aguero trails only Cristiano Ronaldo and Neymar in the list of the top marksmen in Europe's leading five leagues - Spain, Germany, England, France and Italy - helping his side into second place, and keeping Premier League leaders Chelsea in their sights.
Best minutes-per-goal ratio in top divisions in England, Spain, Germany, France and Italy in 2014-15

Player

League

Mins per goal

Goals

1. Cristiano Ronaldo

Spain

42

15

2. Neymar

Spain

52.5

8

3. Sergio Aguero
England
58.7
9

4. Papiss Cisse

England

60.3

4

5. Javier Hernandez

Spain

62.3

3

6. Diego Costa

England

65.4

9

7. Zlatan Ibrahimovic

France

71.8

5

8. Valentin Lavigne

France

72.7

3

9. Carlos Tevez

Italy

73

6

10. Mario Gotze

Germany

81

6

*18. Lionel Messi

Spain

102.9

7

Data: Opta
Spurs boss Mauricio Pochettino had compared watching Aguero to listening to Mozart before his side took on City on Saturday, and the striker's latest virtuoso performance was certainly music to the ears of City manager Pellegrini.
"I am not saying he is one of the best three or four strikers in the world because he scored four goals against Spurs," Pellegrini explained after Saturday's win.
"It is because he has the attributes to be one of the most important players in the world and, when he is 100% fit, he will demonstrate that every game."
Unfortunately, that has been Aguero's biggest problem since former City boss Roberto Mancini signed him from Atletico Madrid.
He is remembered for THAT goal, which won the title for City in dramatic style at the very end of the 2011-12 season, but there have been as many injuries as magic moments.
Sergio Aguero in the Premier League

Season

2011-12

2012-13

2013-14

2014-15

Games played

34/38

30/38

23/38

8/8

Minutes

2,600/3,420

1,941/3,420

1,539/3,420

528/720

Goals

23

12

17

9

Total shots

104

65

72

29

Shot conversion %

22.1%

18.5%

23.6%

31%

Mins per goal

113

162

91

59

Assists

8

2

6

0

Chances created

57

39

35

6

Data: Opta
His best run of consecutive Premier League appearances is 18, between October and February in his first season on these shores.
Significantly, he has only played the full 90 minutes in 29 of his 95 Premier League appearances, and has been substituted off 50 times.
Last season was almost typical of his time in England so far - despite calf injuries that interrupted the first half of his season, Aguero had scored 26 goals in 25 games in all competitions by the end of January.
The stage was set for a strikers duel with Liverpool's Luis Suarez, who at that stage had hit 24 in 21 matches, to decide the title.
That was indeed the case, but it turned out to be City team-mate and fellow front-man Edin Dzeko who scored the vital goals that brought the Premier League trophy back to Etihad Stadium.
A hamstring problem ended up ruining Aguero's run-in and he managed to score only twice more before the end of the season.
Injuries also blighted his appearances at last summer's World Cup, where he started as first choice for Argentina but ended up a bit-part player, failing to score in any of his five appearances and coming on as an ineffective second-half substitute as his country lost to Germany in the final.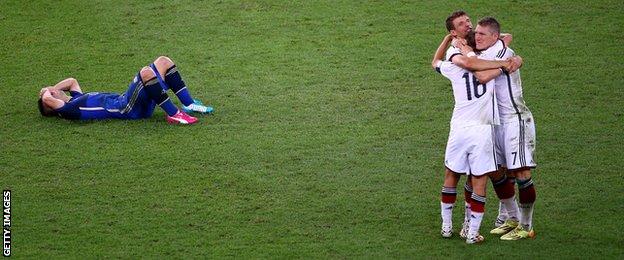 So, why has this season been different, and how has Aguero stayed injury-free?
A slow start is part of the answer - he only appeared as a late substitute in the first two league games of the season but has started the other eight.
Pellegrini explained: "He had a good pre-season and we did not start him in the first few games so he could get 100% fit. Now he is showing us how he can play.
"Last year, it was not easy for him to play like he did against Spurs when he had so many injuries. Then, he was not 100% fit but, now, I think he is working very well.
"I don't think he will score four goals in every game but I think he will demonstrate why everyone says he is one of the best players in the world."
The Champions League would seem the ideal place to show it. The goals have kept on coming in the Premier League but, so far, Aguero has scored only once in Europe this season - an early penalty in City's disappointing home draw against Roma.
Premier League 2014-15

Shots

Shots on target

Goals

=1.

Graziano Pelle &

Sergio Aguero (29)
1. Sergio Aguero (20)
=1.

Diego Costa &

Sergio Aguero (9)

3. Lucas Jutkiewicz (20)

2. Diego Costa (16)

3. Graziano Pelle (6)

4. Diego Costa (19)

3. Graziano Pelle (14)

=4. Saido Berahino, Leonardo Ulloa & Diafra Sakho (5)

5. Wilfried Bony (17)

=4. Dusan Tadic. Saido Berahino & Wilfried Bony (10)

Data: Opta
If he is to prove himself to be one of the best players on the planet, then City need him to help them beat the elite teams in Europe, starting on Tuesday in the first of two back-to-back meetings with CSKA Moscow.
Last season, Aguero scored four goals in two wins against the same opposition, and netted six times in total to help City get out of their group.
Whether he can manage a repeat performance remains to be seen, but the fact he is fit to take on the Russians and in such fine form is a huge boost in itself.