Swansea boss Garry Monk criticises 'cheat' Victor Moses
Last updated on .From the section Football
Swansea boss Garry Monk said Stoke's Victor Moses should be "ashamed of himself" and punished for winning his side a penalty against the Swans.
Monk, whose team are without a win in five league games, said: "Moses should be done for diving, for cheating."
Stoke boss Mark Hughes described Monk's comments as "unacceptable".
He said: "I actually heard him say that my player was a cheat which is unacceptable in my view.
"He's obviously upset. We have to come in here 20 minutes after the game to speak about what's gone on and sometimes you just have to bite your tongue and maybe that will come from experience."
Swansea led through a Wilfried Bony penalty, but Stoke levelled through Charlie Adam's spot-kick before substitute Jonathan Walters headed home the winner after the break.
In a highly-charged and honest news conference after the match, Monk said:
Stoke's penalty was "absolutely disgusting"
Only referee Michael Oliver thought it was a spot-kick
Referees' chief Mike Riley had not replied to his concerns
He would not be able to go home if he were Moses
Monk said Stoke's penalty had been awarded for "barely minimal contact" between Rangel and Moses.
"It was an absolute disgusting decision from the referee," said the 35-year-old.
"He is supposed to be a professional referee at the highest level. He's the only guy who thought it was a penalty. Everyone in the stadium was amazed.
"How he can't see it is a blatant dive is beyond me."
The Swansea manager said he had previously raised his concerns with Riley, but had not heard from the referees' chief.
Former England defender Danny Mills on BBC Radio 5 live
"I don't understand how you can give the first penalty because you would have to give six or seven a game. I think he knows he has given a soft penalty and then when Victor Moses throws himself to the ground, when most of the time he would have been given a yellow card for diving, it's a penalty. Very poor refereeing."
"It's happening week after week and it's always against us," added Monk.
"I've sent a DVD off, with a letter, but I've had no contact from Mike Riley. I think that's very poor leadership from him. He is clearly not listening and I have to go above him, and hopefully we will get the answers.
"We just want to know why there is no consistency in the big decisions that have changed games for us."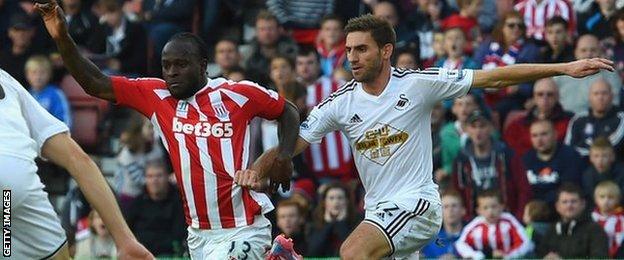 However, Professional Game Match Officials Limited (PGMOL) - the Premier League referees' body - disputed Monk's claim.
"Garry has made a direct assertion that a letter or DVD has been sent to Mike, but he has not received either," said a PGMOL spokesman. "The PGMOL has an open-door policy if any manager or club wants to contact us about an issue."
PGMOL later confirmed a letter from Monk arrived on Monday morning and Riley would respond personally to the Swansea boss.
Monk said Moses's fall inside the box was a "blatant dive" and wants the Nigeria winger to be punished.
"He should be ashamed of himself for diving like that," he said.
"I would not be able to go home to my family and show my face, for me it is a disgrace. He should be punished heavily for that. If my player had done that he would not play in the next game."
When asked if he feared his comments may land him in trouble, Monk added: "What have I said wrong? I haven't said anything wrong, I haven't called anyone names, it's not slanderous."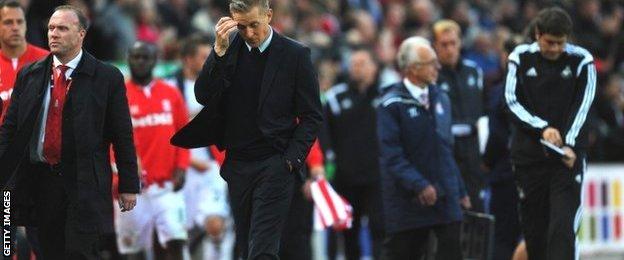 Stoke boss Hughes, meanwhile, said his captain Ryan Shawcross should not have been penalised for grappling with Bony inside the box.
"I went to meetings with managers at the beginning of the year and the referees were talking about it and - for whatever reason - Ryan Shawcross has been highlighted in the media," said the Welshman.
"Apparently he does holding in the box more than anyone else, which is complete nonsense to be perfectly honest with you.
"I see everybody in the Premier League holding people at corners, but the fact it's been highlighted was maybe in the back of the referee's mind and I think he's just seen the lad go down quite easily."