Worcester City: Wayne Thomas turns his hand to keeping goal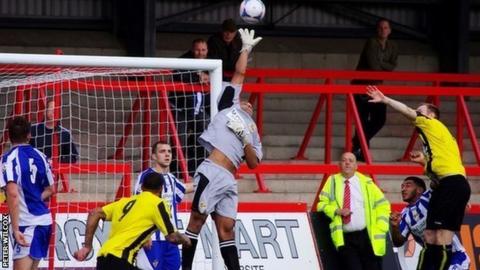 Veteran Worcester centre-half Wayne Thomas knows a thing or two about how to stop people scoring - but Saturday's clean sheet against Harrogate is almost certainly the most memorable of his 18-year career.
The 35-year-old, who has played more than 500 games, started Saturday's Conference North game on the bench.
But when City were left without a recognised goalkeeper after Jose Veiga picked up an injury 30 seconds into the game, Thomas took the gloves and kept out the best that Harrogate could throw at him in a 2-0 win.
Worcester City commentator Dan Johnson, BBC Hereford & Worcester:
"Wayne's always been a colourful character but I don't think I've ever seen a player have so much fun on a pitch as he had on Saturday. The crowd chanted his name throughout and he produced some textbook time-wasting that any veteran keeper would be proud of. He only joined the club in the summer but is already a fans' favourite and could well become a club legend."
"We've got two good keepers," City boss Carl Heeley told BBC Hereford & Worcester. "And 99 times out of 100, when you have a spare keeper on the bench, he's not used.
"But that's the way it goes."
This season's first-choice Nathan Vaughan is nursing a groin injury, leaving Worcester without a back-up option on the bench.
"Jose went in goal and, within the first 30 seconds, he's got a nasty-looking knee injury," added Heeley.
"So I got the boys together and asked 'How many of you have ever played in goal?' - that was the selection process.
"Tommo put his hand up and off he went."
City played so well, however, that Thomas did not have a meaningful save to make, being forced only to punch clear a few times.
"He was protected really well," added Heeley. "But he said if they'd had a shot at him, he'd have saved it anyway."
Great goalkeeping substitutes
April 1991: Big striker Niall Quinn scores one, then goes in goal after Tony Coton is sent off and saves a Dean Saunders penalty for Manchester City in a 2-1 win over Derby County at Maine Road
April 2009: Front man Ryan Lowe makes one, scores one and then makes a string of saves after going in goal for the final 10 minutes when John Danby is injured in Chester's 2-1 win at Notts County
August 2014: Ludogorets defender Cosmin Moti goes in goal after his keeper is sent off in extra time, then makes two penalty saves in the shoot-out to send his side through to the Champions League group stages
Thomas's career has taken him all the way from Torquay to the Greek Super League, via noteworthy stops at Stoke City, Burnley and Southampton.
A close-range goal for Stoke in the FA Cup third round in 2005 at Highbury against then reigning Premier League champions Arsenal, almost made the headlines.
But just a week before he hopes to book a place in this year's FA Cup first round with Worcester, a switch of position saw him grab the spotlight again.