Ebola & Africa Cup of Nations: Platini wants Caf apology
Last updated on .From the section Football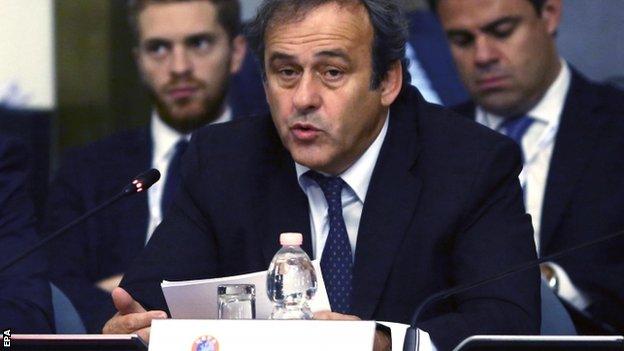 Uefa president Michel Platini is demanding an apology after the Confederation of African Football criticised him for comments on the staging of the Africa Cup of Nations.
Caf accused Platini of "treacherously" interfering after he discussed the impact of the Ebola crisis on the tournament in a TV broadcast.
But the Uefa president insists his comments have been misinterpreted.
Caf says an apology to Platini will not be forthcoming.
The Nations Cup is due to be held in Morocco from 17 January to 8 February, but the host nation have said they wish to postpone the tournament.
Around 4,500 people have died since the Ebola epidemic broke out in west Africa at the start of the year.
How the Ebola outbreak has affected African football
Sierra Leone has suspended all football matches in the county
Caf has placed bans on Guinea, Liberia and Sierra Leone hosting any international football
Seychelles forfeited their Nations Cup qualifier rather than host Sierra Leone
Caf issued a strongly worded statement on Tuesday criticising the Uefa president, who they claimed had suggested in the interview that the tournament be postponed - a claim Platini denies.
The confederation stated it did not "intend to let anyone interfere in the management of its affairs".
But Platini responded in a letter to the Caf president Issa Hayatou saying he was deeply upset by the accusations, and demanded a formal apology.
The letter also included a transcript of the interview.
"At no point did I interfere in any way in the affairs of the Caf, and at no point did I call for or support the postponement of the forthcoming Africa Cup of Nations," Platini wrote.
"It is for Mr Hayatou to decide on the question of postponement.
"Public health has to take priority, but it is up to them to decide what to do."
Caf has stated it has no intention of changing the dates and has since approached Ghana, South Africa and up to five other countries about their willingness to host the event should Morocco withdraw.
The confederation is due to meet Moroccan officials on 3 November to discuss the hosting of the tournament.