Major League Soccer will compete for top stars - Dan Courtemanche

By Richard Conway
BBC Radio 5 live sports news correspondent
Last updated on .From the section Football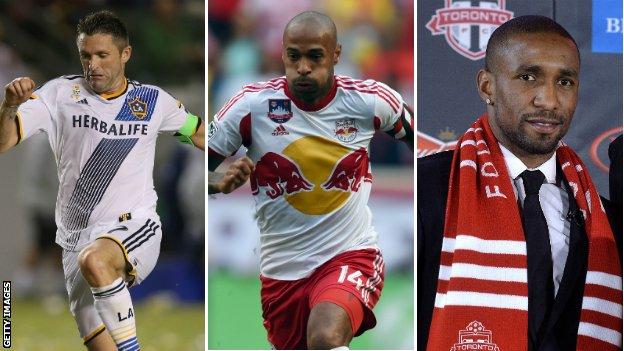 Major League Soccer will compete with the Premier League for top players in the next decade, according to the league's senior vice president.
Dan Courtemanche gave a cautious welcome to the prospect of competitive Premier League games in the US.
And the MLS has expansion plans of its own involving the world's top players and developing home-grown talent.
"One of our goals is to be one of the top leagues in the world by 2022," said Courtemanche.
"We also want to have world class stars - whether they are from the United Kingdom, throughout Europe, Asia, Latin America," he added.
"If you want to be among those top leagues you need to be signing players in the prime of their career."
Some of the players plying their trade Stateside

Thierry Henry

New York Red Bulls

Robbie Keane

LA Galaxy

Jermain Defoe

Toronto FC

Tim Cahill

New York Red Bulls

Obafemi Martins

Seattle Sounders

Clint Dempsey

Seattle Sounders

Michael Bradley

Toronto FC

Marco Di Vaio

Montreal Impact

Zat Knight

Colorado Rapids

Liam Ridgewell

Portland Timbers

Andy O'Brien

Vancouver Whitecaps
Last week United States national team manager Jurgen Klinsmann questioned the quality of the MLS and its likely effect on top American players.
Klinsmann said United States midfielder Michael Bradley - who left AS Roma for MLS side Toronto in January this year - "has to prove that he hasn't lost a bit."
That prompted an angry response from MLS commissioner Don Garber who said that Klinsmann's views were "very, very detrimental to the league, to the sport of soccer in North America … they are wrong."
But Courtemanche, who was speaking prior to the row, believes it is important for a mix of homegrown and imported talent to play in MLS.
"We want to make sure that we have the best US national team players in our league - the likes of Clint Dempsey or Michael Bradley," he told BBC Sport.
Football reached new heights of popularity this summer in the United States, driven mainly by the success of the national team at the Brazil World Cup and the heroics of goalkeeper Tim Howard - who became a social media sensation.
The team's performances even attracted the attention of US President Barack Obama.
With that success in mind Courtemanche now wants to see the World Cup played in the country for the first time since 1994.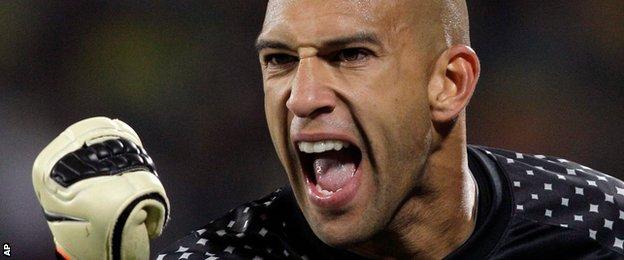 "We're fortunate that the US team captured the hearts and the imagination of an entire nation," he said
"We're also fortunate that MLS had players from eight different nations down there in Brazil.
"It really raised the profile of our league and brought it into the mainstream Americana culture like nothing we'd ever seen before.
"We believe the World Cup will come back to the US at some point. Wouldn't it be great to have it here in 2026, if not 2030?"
By then MLS hopes to have 24 teams competing in the league including New York City FC, co-owned by Manchester City.
David Beckham is also 'making progress', according to Courtemanche, with his plans to launch a team in Miami.
"He needs to complete his stadium plan before he finalises his expansion agreement," said Courtemanche.
After struggling to receive the necessary approval to build on his preferred location the former England captain could now proceed with building a stadium elsewhere in the city.
"He looked at a couple of different sites, one was right in the harbour of Miami and one was also on the waterfront next to the American Airlines Arena were the Miami Heat play," added Courtermanche.
The ambitious plans for growth by MLS could, however, be tempered by the emergence of the Premier League who are believed to be undertaking a feasibility study over playing one round of fixtures overseas in the coming years.
The United States, along with Asia, is thought to be firmly in the minds of Premier League shareholders given the huge crowds that major European teams have attracted recently for pre-season games.
This summer 109,000 fans watched Manchester United and Real Madrid play in Michigan.
Courtemanche is confident that there is now an abundance of interest in the game in North America to sustain MLS and the occasional appearance of teams from rival leagues.
"I can tell you that Premier League chief executive Richard Scudamore has said it's many years away from actually happening. So we'll continue to monitor the situation," he said.
"If clubs come here during the pre-season - or, if at some time there's more soccer content coming into this country - there's no shortage of fans or demand.
"The demographic of MLS fans is amongst the youngest in professional sports in North America. It's also the most diverse - 33% of our fan base is of Hispanic origin. That's nearly 54 million people now in the United States alone. It's growing in popularity."