Fan ownership: Government & football chiefs launch new group

By Dan Roan
BBC sports editor
Last updated on .From the section Football
The government and football authorities are to work together to explore ways in which fans can have more say in the running of their clubs.
The Supporter Ownership and Engagement Expert Group will meet in November.
It will include representatives from the coalition, the FA, the Premier League, the Football League and fan advisory group Supporters Direct.
The panel is tasked with helping to overcome the barriers to clubs becoming supporter-owned.
Sports Minister Helen Grant said: "Football fans are the lifeblood of the club they support.
"Owners, executives and managers may come and go but it is the fans that are the constant, loyally following their clubs through thick and thin.
"We want to see what more we can do to give fans a stronger voice in how their club is run, as well as looking at ways in which we can help remove some of the barriers to supporter ownership."
Last week, Labour unveiled radical proposals to give fans seats on every club board, and the right to buy a significant slice of a club's shares when its ownership changes. The government says it has been working on its expert group for several months, and believes it has more chance of achieving a consensus across the game than the opposition's plans.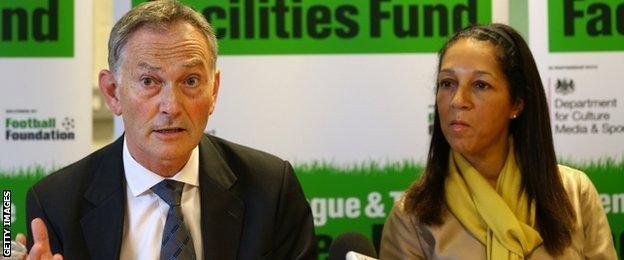 Only 14 league clubs currently have fan representatives on their board, including Premier League Swansea City, where the Swansea City Supporters Trust own 20% of the club.
Premier League chief executive Richard Scudamore said: "The Premier League supports the government's plans to remove legal obstacles which make it harder for fans to acquire shares in their clubs and so welcomes the creation of the expert working group.
"We will play our part in helping the group in reaching positive conclusions, especially by providing them with our technical expertise.
"Dialogue with fans has helped shape recent regulatory changes, including stricter owners' and directors' tests, and tougher financial regulations and we will engage with the working group to identify where further improvements in company law or football rules and regulations can be made in removing unintended barriers to fan ownership."
Supporters Direct chief executive Robin Osterley said: "It's very gratifying to see the government addressing the problems that prevent an increase in supporter ownership.
"We're immensely pleased at the cooperation that we've seen across the game, and between government departments, and we're grateful to the minister for making this happen.
"This is something that can directly and tangibly benefit supporters' trusts, and we look forward to making swift progress on the issues."
However, Labour's Shadow Sports Minister Clive Efford said: "It is three years since the government promised to set up its working group on supporter ownership of football clubs. Nobody will be fooled by this latest announcement of another talking shop, least of all the fans.
"The truth is this is just a pale imitation of Labour's radical plan to give fans a role on boards and a slice of the shares."
The group will be chaired by Joanna Manning-Cooper, director of marketing and communications for the 2015 Rugby World Cup in England, a member of the Portsmouth Supporters Trust and a community shareholder in Portsmouth FC - the biggest supporter-owned club in the country.