Swansea: Garry Monk 'out of order' for cheat remark - Mark Bowen
Last updated on .From the section Football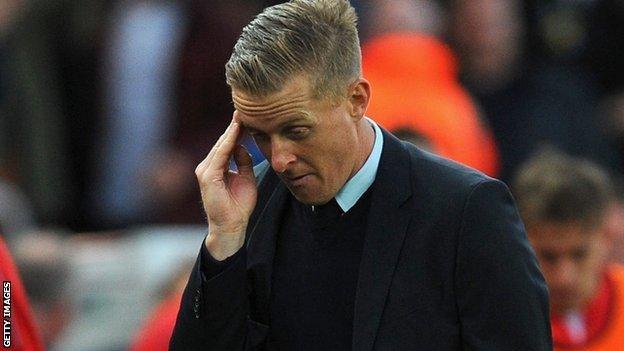 Swansea manager Garry Monk was "out of order" to call Stoke winger Victor Moses a cheat, says Potters assistant boss Mark Bowen.
The Football Association is considering whether to act over Monk's comments.
"To call a player a cheat is totally out of order because there was contact there," Bowen said.
"Is Moses trying to make the best of a situation? Yes. Was it harsh on Swansea? Yes. Was the decision a poor one? Possibly yes.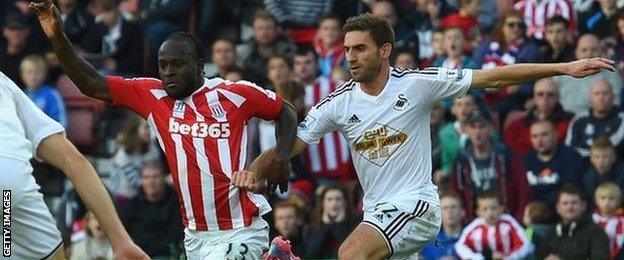 "Was he a cheat? 100% not and for Garry to say that in his post-match press conference is bang out of order."
Swansea defender Angel Rangel was penalised for a 43rd-minute foul on winger Moses, with Charlie Adam converting the resulting penalty.
Monk said Stoke's penalty had been awarded for "barely minimal contact" between Rangel and Moses and criticised referee Michael Oliver.
Former Wales defender Bowen, Mark Hughes's assistant, said there was contact.
"My definition of cheating is if a player goes into the area and he's not touched, if there's no contact and he goes down he's a cheat," Bowen told Radio Wales Sport.
"I don't care if he's my player, somebody else's player - if you're not touched in any way and you go down you're cheating.
"Was Victor Moses not touched? No, he was grabbed. There's one picture where Angel has got a handful of Victor Moses's shirt.
"It was very slight, but if there is contact there it's up to the referee to differentiate is it enough to be a penalty or not.
"If we were Swansea and that penalty was given we would be upset, of course you would, because there was minimal contact.
"But to call the player a cheat is totally out of order because there was contact there as that picture clearly shows."