Stoke 'angry' at criticism of Victor Moses by BBC's John Hartson
Last updated on .From the section Football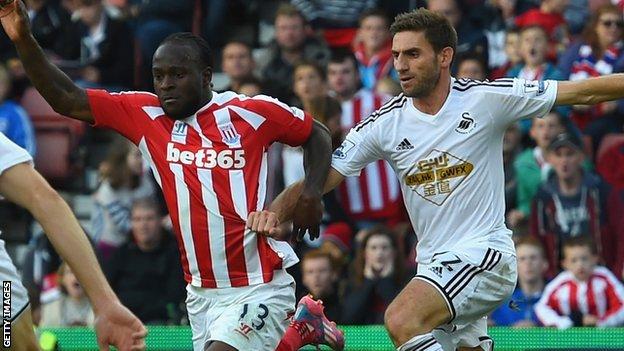 Stoke chairman Peter Coates says BBC pundit John Hartson's criticism of Potters winger Victor Moses on Match of the Day 2 was "unacceptable".
Hartson said Moses "cheated" to win a penalty in Stoke's 2-1 win over Swansea on Sunday.
"He (Hartson) spoke like what he probably is - a Swansea fan," Coates told BBC Radio 5 live.
"He is calling him a cheat and said he never touched him. Well, he did touch him. The evidence is there."
Moses went down following a challenge from defender Angel Rangel and Swansea manager Garry Monk said the Stoke forward should be "ashamed of himself".
But Stoke assistant Mark Bowen says Monk's comments were "out of order".
"We're very angry about our player being called a cheat," added Coates. "His shirt was pulled and there may have been minimal contact but he was travelling at speed and he went down.
"I didn't think John Hartson's comments were balanced in any way, shape or form.
"I accept Alan Shearer did make a good counter point but he (Hartson) was so completely over the top, for us, that was completely unacceptable."