NIFL reschedule some Premiership matches for Friday nights
Last updated on .From the section Football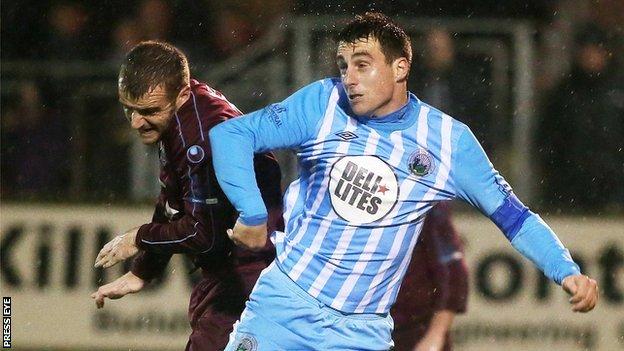 The Northern Ireland Football League has agreed to play one Premiership game on a Friday night on a number of weekends in November and December.
The move follows on from the findings of the Uefa led consultation which took place earlier this year.
The Premiership Management Committee signed off on the initiative at a meeting on Monday night.
A number of top-flight matches have already been rescheduled for Friday nights this season.
Cliftonville will host Warrenpoint Town in the first of the regular batch of rescheduled games on Friday 7 November.
"One of the findings that came out of our consultation with clubs, fans, media and sponsors was that playing more football away from Saturday afternoon was something that the NI Football League should seriously consider," commented NIFL Marketing and Communications Manager Graeme Beggs.
"Attendances have already shown an increase this season compared to the same period last season and although we are obviously delighted with this, Friday night football was always on our radar as this was very clearly shown in the fan survey in particular.
"Of the football fans who stated that they would prefer local games to be played on a Friday night, the vast majority were lapsed fans or non-attendees of local football, with the most common reason for being that those playing amateur football on a Saturday can attend.
"We want to get more football fans through our turnstiles and only by having an extended trial for Friday night games can we fully assess the success of the initiative."
The rescheduled games are:-
Friday 7 November - Cliftonville v Warrenpoint Town
Friday 21 November - Crusaders v Coleraine
Friday, 28 November - Dungannon Swifts v Glenavon
Friday, 5 December - Glenavon v Institute
Friday, 12 December - Warrenpoint Town v Portadown