Cameron Jerome accuses Leeds' Giuseppe Bellusci of racist abuse
Last updated on .From the section Norwich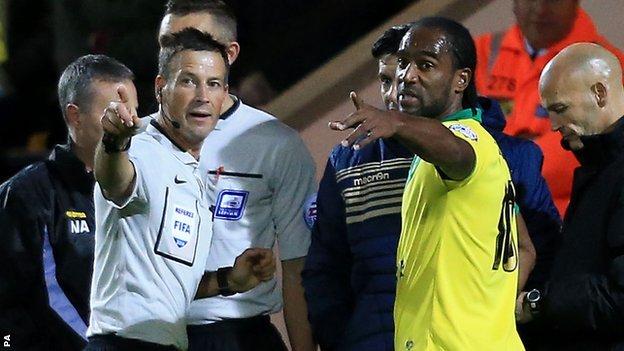 The Football Association is investigating a claim by Norwich striker Cameron Jerome that he was racially abused by Leeds defender Giuseppe Bellusci on Tuesday.
"Cameron has alleged that a racist remark was made," said Canaries boss Neil Adams after the game.
"I don't think he'd have reacted in the way he did if it hadn't happened."
Leeds owner Massimo Cellino has given his full backing to former Italy Under-21 international Bellusci.
He told the Yorkshire Evening Post: "Bellusci is no racist. I spoke with him and he said 'you must be joking, I said nothing like this to him (Jerome)'. He is surprised by this. He is shocked.
"I don't allow racists at this club and I won't allow racists at this club ever. If one of my players is a racist I'll kick him out before the FA has a chance."
Adams added that referee Mark Clattenburg, who stopped play to discuss Jerome's claims with him and Leeds manager Darko Milanic, has taken post-match statements from both players.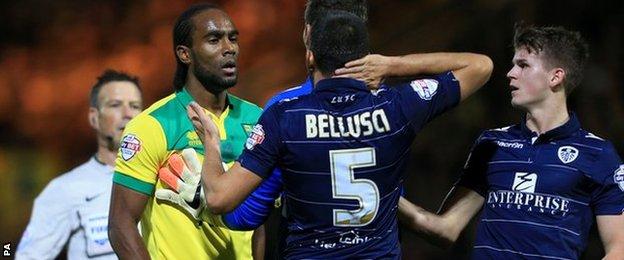 The 39-year-old official gave a warning to Bellusci, who joined Leeds from Serie B side Catania in the summer, following the incident. Moments later he booked Jerome when he clattered into the Leeds defender.
"Mark came over to explain to myself and Darko exactly what had happened to put everybody in the picture, which I think was the right thing to do," added Adams.
"He spoke to the players and representatives from each club at half-time and he'll be taking statements from the players involved.
"Mark will submit a report to the relevant authorities and it will be dealt with from there. He didn't take any action at the time. He merely relayed what Cameron had said. It must now go through the proper channels.
"Yes, Bellusci is the player who has been alleged to have made the remark. My concern was to speak to Cameron at the break to make sure his head was right."
Adams added: "We back our player. I'm sure Leeds will back their player, but other than that we can't comment any further because there is now going to be an investigation I would expect."
In his post-match interview, Leeds boss Milanic said he had not spoken to 25-year-old Bellusci about the allegations.
"It is difficult for me to comment because I didn't hear anything," he added.