Jersey FC: Craig Culkin prefers French league place for island side
Last updated on .From the section Football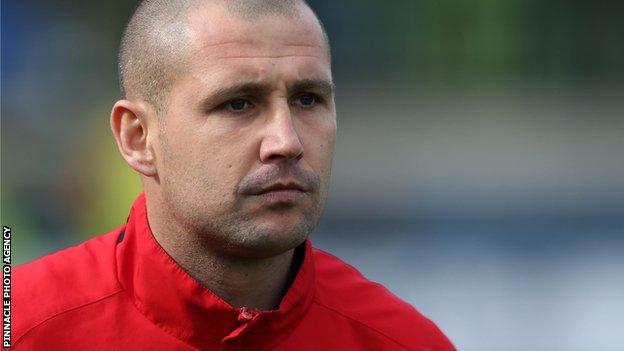 Ex-Jersey boss Craig Culkin would prefer an island side to play in the French league rather than in England.
Culkin chaired a meeting on Tuesday exploring options for creating an island side to play at a higher level.
"My preference based on logic, on finance, on exposure, on development, would be the French route," he said.
Culkin has since after a dispute with the Jersey Football Association.
Near-neighbours Guernsey set up Guernsey FC in 2011 and have won promotion to the Isthmian League Division One South in England.
In Profile: Craig Culkin
Former Celtic youth-team player
Managed Jersey club side St Paul's
Led Jersey to 2009 Island Games gold medal
Took Jersey to the 2013 Uefa Regions' Cup
Critics of a Jersey side playing in an off-island league say
"I think a Jersey team playing at any elite level, whether that be in England following in the footsteps of Guernsey FC, or the French leagues, would be well-supported," Culkin said.
"Would I not go down the English route? Absolutely not.
"But to make this happen it needs people to bring the business acumen, and investment and partners to the table to get the formation of this football club up and running.
"We can't go into any leagues if we have no money, no partners and no sponsors, so I don't want us to get lost in that."
Jersey's FA, which governs the sport in the island, is affiliated to the English Football Association, which could prove problematic for Culkin's hopes of joining a French league.
"It remains to be seen," Culkin told BBC Radio Jersey when asked how he would get around the problem of a team from one country playing in another country's league.
"These are all trivial things that will be looked at when a chairman or president steps up to the plate and explores all the options and possibilities.
"Tonight was a presentation on some of those options and the implications and considerations on local football."