Mark Yates angered by Richard Money 'non-league' jibe
Last updated on .From the section Football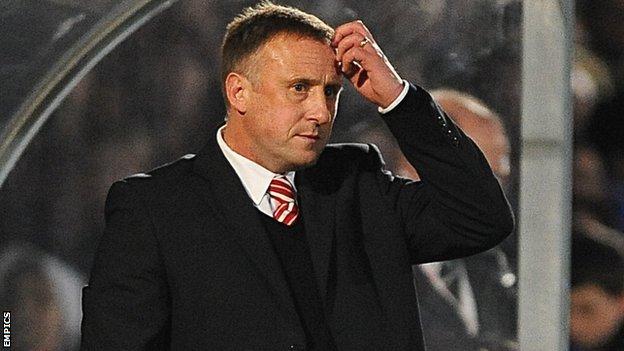 Cheltenham Town manager Mark Yates has accused Cambridge counterpart Richard Money of calling him "a non-league manager of a non-league team".
Money declined to comment on what had sparked their dismissal on Tuesday, telling BBC Radio Cambridgeshire: "You'll need to speak to the referee."
But Yates said: "It was petty, but I'll stand up for my players and my club."
He told BBC Radio Gloucestershire: "He called me a non-league manager of a non-league team. I had every right to defend myself.
"I didn't say anything wrong, I didn't swear. The referee just asked me to not come and sit in the dugout. That's the end of the matter for me."
The teams went in level at 1-1 at half-time and the incident occurred as the two managers headed down the tunnel.
Yates's side sealed victory after the break when Terry Gornell slotted home to earn the Robins a second successive League Two win.
"I shook his (Money's) hand at the end and said: 'You're a bit harsh. I haven't done anything'," added Yates.
"I don't know if we were sent to the stands, we were just asked not to come down. I hope it doesn't mean any more than that or go any further."