Departing SFA performance chief Mark Wotte hits back at critics

By Kenny Macintyre
BBC Scotland
Last updated on .From the section Football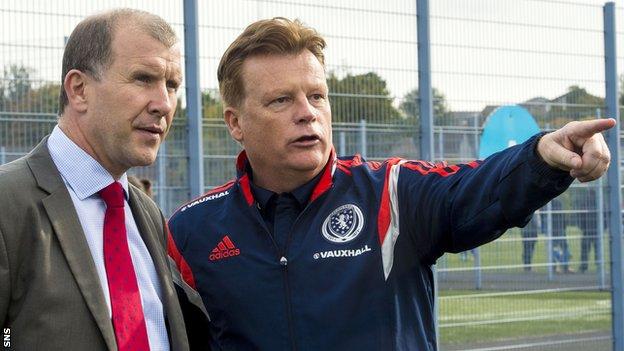 Departing Scottish FA performance director Mark Wotte has hit back at those he insists were resistant to the changes he implemented.
The Dutchman has been left angry by criticism he has received by some coaches and others in the media after deciding to stand down this week.
And Wotte broke his media silence to tell BBC Scotland: "Some people in Scotland are reluctant to change.
"I have things to say but will take my time to think about my response."
Wotte was appointed by the parent body in 2011 to implement its "Performance Strategy", which resulted from Henry McLeish's Review of Scottish Football.
But the SFA announced that the man hailed by chief executive Stewart Regan as "the key appointment that could turn around Scottish football" has now decided to "move on".
The 53-year-old former Southampton manager's official statement said he was leaving having fulfilled the tasks set for him by the SFA.
Allan Preston on Mark Wotte
"I think he rubbed people up the wrong way at times, from what I'm led to believe."
However, having returned to the Netherlands, he now plans to say more after he is back in Scotland next week.
"I am very disappointed with the untrue statements that have been made about me and the things I have done during my time as performance director," he said.
He added on Twitter: "Change management is always a challenge, especially when people are not ready for it.
"Many have bought in to it, just a few didn't."
Wotte's remarks follow speculation in the media about the reasons for his departure and criticism from some Scottish coaches.
Maurice Malpas disagreed with some of the changes implemented by Wotte while the former Motherwell, Swindon Town and Scotland Under-21 manager was assistant boss with Inverness Caledonian Thistle and Hibernian.
"His initial contact with coaches was 'I know better, I come from Holland' - their system is better, they have better players, they have better everything and that was pushed down your throat," Malpas told BBC Scotland.

"He was very abrupt with us and it was an iron rod he ruled by.
"He wasn't the type of person who came and asked your opinion."
Former Livingston manager Allan Preston praised the introduction of performance schools.
"You are starting to see the fruits of what he has done, but we're not going to see the end product until many years down the line," he said.
"I think he said he is looking for six or seven players to be in the full squad by 2020 and I am surprised that, after just three years, he has decided to walk away."
Preston also suggested Wotte had a problem retaining coaching staff.
Kenny Shiels on Mark Wotte
"I see Mark as a very innovative and modern coach. I was fascinated by him"
"I think he rubbed people up the wrong way at times, from what I'm led to believe," he added.
"He fast-tracked a few through. Ian Cathro you can understand as he's now working at Valencia, left, Ray McKinnon, once he got his license, left to be manager of Brechin, Dean Gore left for personal reasons, Scott Booth left to be the manager of Stenhousemuir.
"All due respect to Brechin and Stenhousemuir, surely a full-time job working with the SFA, taking teams and watching young players progress, is better than a part-time job."
Another who became involved in the SFA's coaching system under Wotte was former Kilmarnock and Greenock Morton manager Kenny Shiels.
And the Northern Irishman said in support of Wotte: "He has a good philosophy on the game.
"He wants his teams to play a developmental way. I see Mark as a very innovative and modern coach. I was fascinated by him.
"We [in the UK] are reluctant to change. It's in our culture, it's the way British people are. They're so loathed to changed.
"Some coaches are still playing football the same way as they did 20, 40, 50 years ago in the UK."