Shaun Derry: Notts County 'could have been five down'
Last updated on .From the section Football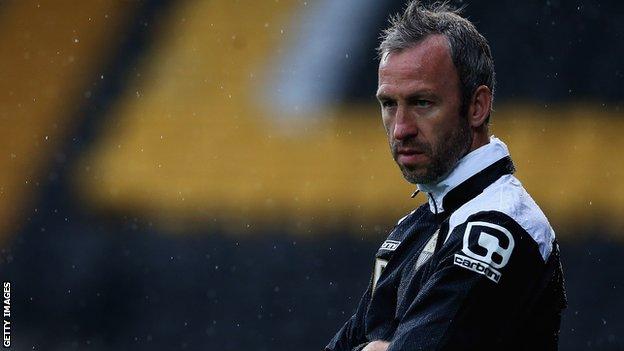 Notts County boss Shaun Derry says his side were lucky not to be 5-0 behind before their turnaround at Barnsley.
"I don't think there was enough minutes in the break to vent my frustrations," Derry told BBC Radio Nottingham.
"It was a horrible performance in the first half and I can only be honest with them and tell them how it is. I felt everyone in the second half played how I know they can play."
He continued: "We could have been five down. We absolutely got away with it first half, but second half I think there was only team in it and that was us."
A second-half double by winger Michael Petrasso helped Notts extend their unbeaten run to 10 games and the victory lifted them up to fifth in League One.
Derry heaped praise on the QPR loanee in only his second game for the Meadow Lane outfit.
"Everybody let themselves down first half, Michael being one of them. I think there was glimpses in the first half where he saw a little bit of grass and opened his legs and caused problems," Derry said.
"We put him out on the left second half, and it was an unbelievable performance.
"He caused problems every time he had the ball. That's what he can do, and that's a proper winger, because wingers excite, and that's what he did tonight."