Robbie Savage on Louis van Gaal's start at Man Utd
Last updated on .From the section Football

BBC football pundit Robbie Savage looks at Manchester United's next few games and why they might see more fans make their mind up about Louis van Gaal. Savage also discusses West Ham's turnaround in results and playing style under Sam Allardyce this season, how Sunderland can bounce back from last week's 8-0 defeat by Southampton.

In three of their next four games, United play Chelsea at home and Manchester City and Arsenal away.
And, as Van Gaal's predecessor David Moyes discovered last season, when you are United boss the pressure is on whenever you have a bad result against any of the top teams.
Moyes only won one of his eight games against last season's top four, and lost five of them.
Man Utd v the Premier League's top four 2013-14

Opposition

Home

Away

Man City

Lost 0-3

Lost 1-4

Liverpool

Lost 0-3

Lost 1-0

Chelsea

Drew 0-0

Lost 3-1

Arsenal

Won 1-0

Drew 0-0
Van Gaal has to do better than that, but his early results suggest that might be a struggle.
United's attacking approach has not been too convincing against the lesser sides in the Premier League, and it will be very interesting to see how far it gets them against the best teams.
We will find out when they play Chelsea on Sunday.
United's defence has managed just two clean sheets all season, against Burnley and QPR, and they were hanging on to beat Everton and West Ham.
I think Van Gaal's strikeforce will get through the Blues defence but I just cannot see them keeping Chelsea out. There will be lots of goals at Old Trafford and I am going for a 3-2 Chelsea win.
If United do lose, maybe Van Gaal might give up on the title.
He said this week that he thinks United can still catch Chelsea. Sorry, but who is he kidding?
Van Gaal's side are already 10 points behind Chelsea and I cannot see Jose Mourinho's side losing four games all season.
Happy Hammers?
When I spoke about West Ham on Match of the Day after they beat Crystal Palace at the end of August, I said how impressed I was with the way they were playing.
Then the Hammers lost to Southampton the following week and quite a few people tried to tell me that I was wrong about them.
Since then, however, I continued to stick up for them because they did look a different team. Their recent results are certainly backing that up and they will be full of confidence when they play Manchester City on Saturday.
The Hammers are up in fourth place in the table, and it is hard to find the West Ham fans who were criticising their manager Sam Allardyce, and were so determined to get rid of him last season.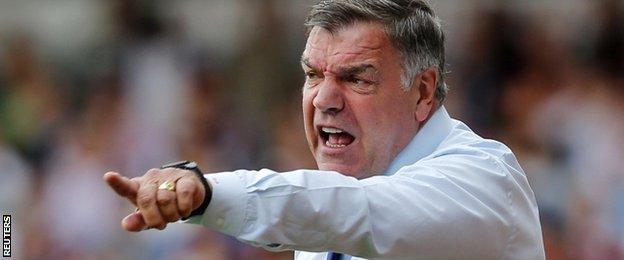 Allardyce has not just drastically improved results, he has done so by using the more attractive and attacking playing style that the club's owners asked for over the summer.
Not only that, but he has been able to bed in a number of new players at the same time, something the likes of Liverpool and Tottenham, to name just two teams, have struggled to do successfully in recent months.
Allardyce the entertainer
The statistics show the progress that West Ham have made in the last few months - this season they have more goals and shots on target per game, and are also playing more passes more accurately with fewer long balls.
West Ham in the Premier League

Rank

2013-14

2014-15

Rank

38

Games played

8

14

40

Goals

15

=5

14

1.05

Goals per game

1.9

=5

16

8.6

Shots per game

10

9

20

37.4%

% Shots on target

48.75%

8

11

12%

% Goals to shots

18.75%

=6

19

325.4

Passes per game

392.3

15

18

73.9%

Overall pass completion %

78.46%

15

1

16.7%

% Passes long

14.7%

7

Data: Opta
Allardyce's summer signings have played a big part in that improvement, but he deserves credit for the way he has bedded them in.
In the first two games of the season, only two new faces started, but that number has steadily increased as the campaign has gone on. In their last two games, the wins over QPR and Burnley, there were seven and six new players in the Hammers' starting line-up.
You always hear people talk about foreign players needing time to get used to the pace of the Premier League but that has not applied to Diafra Sakho who signed from Metz in August.
West Ham strikers in the Premier League 2014-15

Player

Sakho

Valencia

Cole

Vaz Te

Games

6

7

5

3

Minutes

469

420

288

216

Goals

5

2

2

0

Mins per goal

94

210

144

-

Total shots

14

12

5

6

Shooting accuracy

50%

42%

80%

50%

Data: Opta
Sakho is only the second player after Micky Quinn for Coventry City in 1992 to score in each of his first five games and even at this early stage of the season, West Ham's new strikeforce is close to being more productive than the old one was over 38 games in 2013-14.
West Ham strikers in the Premier League 2013-14

Player

Carroll

Maiga

Cole

Vaz Te

Games

15

14

26

8

Minutes

1,093

1,007

845

257

Goals

2

1

6

2

Mins per goal

547

1,007

141

129

Total shots

42

22

19

8

Shooting accuracy

33%

36%

53%

63%

Data: Opta
It is the same right through the team. As well as Sakho and Enner Valencia, who have both made such a difference up front, the two full-backs Aaron Cresswell and Carl Jenkinson have done well.
And in midfield Alex Song, Mauro Zarate, Morgan Amalfitano and Cheikhou Kouyate have also made an impact.
Downing an unlikely star in Hammers diamond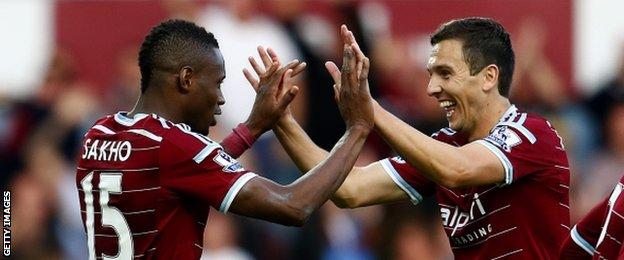 Thanks to those new arrivals, the other new thing the Hammers have in midfield is options, and with it comes flexibility, which is something else Allardyce has not had before in his time in charge at Upton Park.
Seeing Kevin Nolan, who has been one of Allardyce's main men for many years, being left out shows how the team has evolved.
Last season, the Hammers' first choice attacking front four would have been Nolan and Andy Carroll up front, with Stewart Downing on the left and Matt Jarvis on the right.
With Carroll injured, it is only Downing who has been a regular starter out of those four players this season, but in a very different role.
Rather than play Downing as a left-winger, Allardyce has often used him as the tip of his midfield diamond, with Mark Noble and Kouyate or Amalfitano behind him and Alex Song sitting deep.
Downing has flourished and is having the most productive campaign of his career.
Along with Chelsea's Cesc Fabregas, he has created the most chances (25) in the Premier League this season and has already surpassed his assists total from 2013-14.
Stewart Downing in the Premier League

Season

2013-14

2014-15

Games

32

8

Mins played

2,510

719

Chances created

62

25

Chances created per game

1.9

3.1

Mins/chance

40.5

28.8

Assists

2

3

Data: Opta
At the start of October, Allardyce called Downing the best midfielder in the Premier League on current form.
He has not been quite that good but, statistically, he is up there and again it is down to Allardyce for spotting that he could play in that role behind the front two.
His form has helped the Hammers make such a dramatic improvement but I am not totally surprised, however, because I remember playing against Allardyce's Bolton team a decade ago
When Bolton got promoted to the top flight, they also had a regimented way of playing but then he brought in skilful players such as Jay-Jay Okocha, Youri Djorkaeff, Fernando Hierro and Nicolas Anelka.
Basically, Allardyce established Bolton as a Premier League team and then kicked on. In many ways, it is exactly the same as what is happening with West Ham in their third season back in the top flight.
It just goes to show that sometimes it is right to stick with your manager.
Sunderland need character to bounce back
It will have been a very strange week for the Sunderland players after they were thrashed 8-0 by Southampton.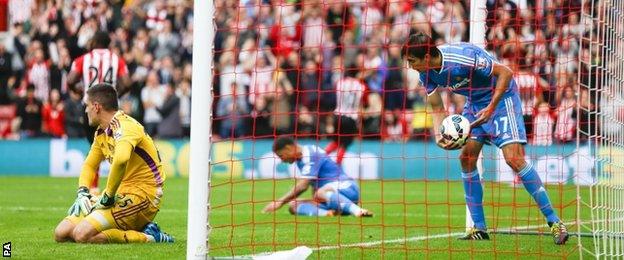 The challenge for Black Cats boss Gus Poyet was how to turn what was a huge negative into a positive performance against Arsenal on Saturday.
There are different ways for a manager to do that, and it does not always involve ranting at your players, dropping a load of them or flogging them to death in training.
After one bad defeat when I was at Derby, I remember driving into our training ground the next day, seeing loads of cones had been laid out on the pitch and thinking to myself "oh no".
I was expecting us to be punished for a poor performance by having to run all day but, when we had all got changed, the manager Nigel Clough arrived with two bags full of cricket gear. He had even asked the groundsman to mow us a wicket.
What had seemed like it would be a horrible day turned into a great laugh, and it worked - we won our next game.
Thinking back, it was a very clever exercise, not just a morale-booster. Clough was still testing us and working out our reaction to what had happened in our defeat, and letting us know what he expected from us.
He would have a go at players if they tried to get out of the way when the cricket ball was smashed right at them, and also make us chase lost causes right to the boundary.
Clough would test us like that all the time, to slowly build up a picture of us, and I am sure Poyet has done the same to get to know his Sunderland players.
It is the same for players as it is for managers too. The bottom line is that, at every club, players talk.
Making your mind up about team-mates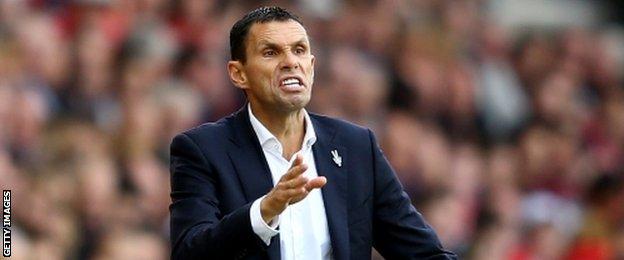 In the dressing room, you all know who you can rely on week-in, week-out. You know who will bounce back after a poor performance and you also know who will hide.
But what happens in one game might change your mind about people for good. That seems harsh, but it is true.
After Saturday's defeat, which saw Sunderland concede five goals after half-time, Poyet said: "That second half showed me a lot about individuals. A lot more than you would think."
I have thought the same. I remember playing in a Premier League game where my team conceded a late equaliser and handed the opposition a big chance to win with the last kick of the game, because a team-mate of mine ducked out of a tackle.
He was a decent player but, from that moment onwards, I doubted whether I could trust him in certain situations.
Luckily, we got away with it because of a bad miss but I went into the dressing room afterwards and absolutely hammered him.
But then I always took big defeats very badly.
I would not speak to my family for two or three days after a bad one, and once threw my wife and father out of my car after Leicester had been beaten by Liverpool because they were giggling in the back on the way home from the match.
I would be the same with the lads when we were back in training. Everybody is different but when you had players laughing and joking after a bad defeat, then I would think to myself that is not right.
I am sure Sunderland's collapse at Southampton is a one-off, rather than a sign that anything is seriously wrong with the team or their tactics.
Fair play, the players got together to refund the fans who went to the game which is a great gesture.
But this week they will also need the big characters in their squad to sort things out.
That probably involves some criticism of each other and, possibly, a lot worse. I have been in dressing rooms where players have been grabbed by the throat by the manager or their team-mates.
The important thing is to clear the air. If Sunderland's players have done that, by whatever means, then I am sure Poyet will get the positive reaction that he wants.
Robbie Savage was speaking to BBC Sport's Chris Bevan