Swansea: ex-Stoke boss Tony Pulis sees Garry Monk's concerns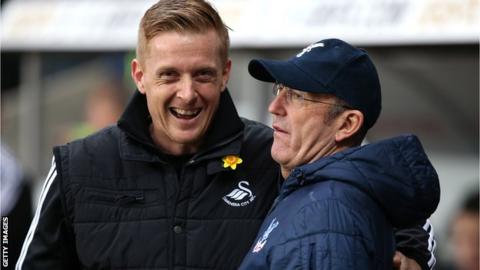 Sport Wales
Friday, 24 October at 19:00 BST on BBC Two Wales and available on iPlayer for seven days after transmission.
Ex-Stoke manager Tony Pulis says players should be punished for diving after Swansea boss Garry Monk called Stoke winger Victor Moses a cheat.
Monk said Moses should be "ashamed of himself" and penalised for winning a penalty during Sunday's 2-1 win over the Swans at the Britannia Stadium.
The Football Association is considering whether to act over Monk's comments.
"I can understand where Garry is coming from. You don't want to see those incidents," Pulis told BBC Sport Wales.
"As a manager, the worst thing is to actually get beaten with people cheating.
"The FA, the Premier League, the League Managers Association and the Referees' Association should have retrospective judgements on people who dive.
"I think a lot of managers would like that, I certainly would."
Swansea defender Angel Rangel was penalised for a 43rd-minute foul on Moses, with Charlie Adam converting the resulting penalty.
Stoke boss Mark Hughes described Monk's comments as "unacceptable" after he criticised Moses for going down under "barely minimal contact".
But Pulis, 56, said Hughes had been outspoken in the past too: "He's done exactly the same at times. He's lost his temper and been frustrated with referees' decisions.
"You're almost getting a manager against a manager.
"I think if you had a panel, the panel would look at it [and] judge it.
"The lad [would] be fined two weeks' wages and banned for three games. If he's found guilty, they wouldn't be doing it again."
He said he had fined Jerome Thomas while managing Crystal Palace after the forward dived against Swansea last season.
"The players think it's part of the game," said Pulis, who also revealed he had been interested in succeeding Ole Gunnar Solskjaer as Cardiff City boss.
"There's nothing worse and Garry would have felt that. The football authorities should deal with it.
"[It's] the best way of dealing with it and stopping the incident where Mark accuses Garry of being young and naive."
Watch Sport Wales on Friday, 24 October from 19:00 BST to see a full interview with Tony Pulis, available on iPlayer for seven days after transmission.