Dundee United: Paton and Wilson not available due to inquiry
Last updated on .From the section Football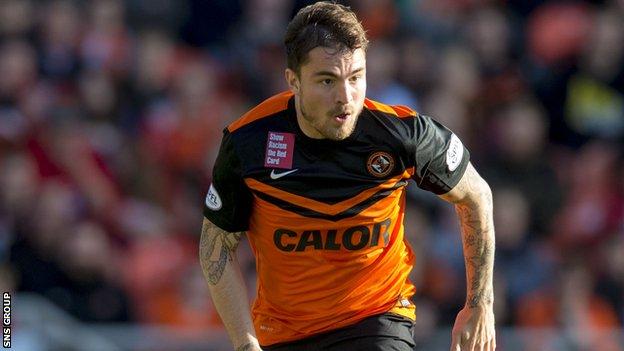 Dundee United's Paul Paton and Mark Wilson are the players at the centre of a club investigation and neither man will be available to face Inverness.
Manager Jackie McNamara said: "It's out of my hands, the club is investigating and it will come out in due course."
He refused to comment when asked if the probe concerned an incident involving Celtic goalkeeper Lukasz Zaluska.
However, defender Wilson has said he was present at the time of an assault on Zaluska early on Monday morning.
Zaluska was assaulted in the street while on a night out in Glasgow, with a police investigation continuing.
Wilson, who played with Zaluska at Celtic, released a statement through a spokesperson, which read: "There has been a lot of publicity surrounding events on Sunday night in Ashton Lane.

"Mark Wilson would like to clarify matters regarding himself.
"Mark was out for a meal with his wife and some other couples.
"On his way home with his wife, they came across his friend and former team-mate, Lukasz Zaluska.
"Mark tried to calm a matter down and latterly to help Lukasz as he was in a distressed situation."
Full-back Wilson, 30, has yet to feature during this campaign, missing the kick-off in August due to an ankle injury.
Midfielder Paton, 27, has been an ever-present for United this season and was last month's Scottish Professional Football League player of the month.
Dundee United chairman Stephen Thompson
"There are parties involved in the investigation from the club - I'm not involved and will not be part of the decision. I am the final person for appeal."
McNamara added: "I think it's important that we focus on Saturday's game and, for me, it's better that we take them out of the limelight."
A statement on the United website on Wednesday evening had not named the players.
"Dundee United has commenced an internal investigation into the conduct of two of its players following information received by the club," it stated.
Club chairman Stephen Thompson also refused to name the players when speaking after McNamara's pre-match media conference but revealed that the investigation will begin on Monday.
"We don't want to conduct this in the media," he told BBC Scotland. "I am not going to prejudge anything at all. Everyone will get a fair hearing.
"We will sit down with the individuals concerned and ask them their version of events and decide if there was a breach of any of the club's policies or employment law.
"There are parties involved in the investigation from the club - I'm not involved and will not be part of the decision. I am the final person for appeal."
Thompson, though, stressed that players had a responsibility to represent the club.
"We've had incidents in the past we've had to deal with," he added. "You work very hard as a club for your image and you work hard in the public eye and it doesn't help.
"It takes a lot of time up when individuals could be doing other things, but it's part and parcel of football - we've seen it a number of times in recent years.
"Anyone who is in the public eye, you've got to look after yourself and be aware of where you go.
"The image of the club is very important and how supporters look at things and also how young kids look up to everyone in football - you have that responsibility."