Football reform: Can politicians deliver fan power at last?

By Dan Roan
BBC sports editor
Last updated on .From the section Football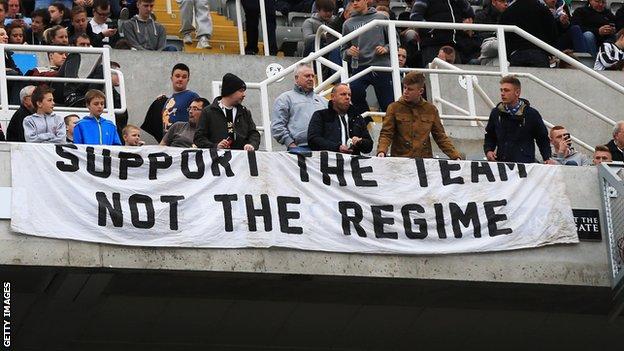 The last week has seen politicians wade into the debate over the relationship between football clubs and their fans.
First, Sports Minister Helen Grant told me she was "cross and concerned" about the findings of BBC Sport's Price of Football study, which revealed another year of above-inflation ticket price rises.
Then Labour unveiled its radical plans for more powers for football fans, proposals that would actually enshrine in law the right for supporter representatives to sit on the board of every club - and for supporters' trusts to have significant shareholdings in their clubs.
And this week the government announced its 'Supporter Ownership and Engagement Group', designed to promote more fan-power in the sport.
So is all this a much-needed attempt to reconnect the modern game with fans who often feel the sport they love has left them behind? A recognition that clubs are more than just businesses after all? Are politicians suddenly more prepared to interfere with one of the country's most high-profile exports?
Or is it simply an attempt to win votes in the months before the next general election?
The answer is probably a bit of both.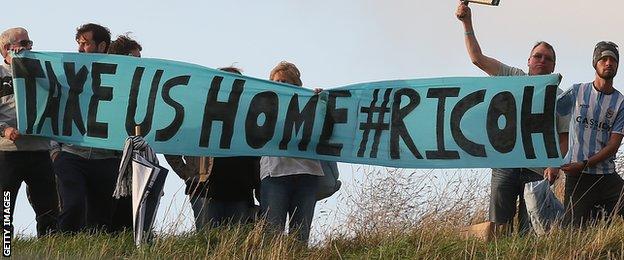 The complaints of fans in recent times about the way their clubs are run, especially at a time when the sport gets even richer, and more money than ever is spent on players' wages and agents' fees, have certainly made an impression in Westminster.
The fans at

Hull City,

for instance, where owner Assem Allam tried to rebrand his club Hull Tigers.

Or those at

Coventry City,

who were forced to travel to Northampton for home games after the club's owners relocated the team following a dispute with the local council.
At

Newcastle United

where owner Mike Ashley temporarily renamed St James Park after his retail business.

At

Cardiff City,

where the club's traditional colours were switched from blue to red by Malaysian owner Vincent Tan.

At

Manchester United,

where £600m has so far been spent servicing the debt that the Glazer family's leveraged takeover of the club landed it with in 2005.

At

Arsenal,

where fans discovered the club had made £3m by raising ticket prices by 3% last year, and then paid a company owned by majority shareholder Stan Kroenke £3m in consultancy fees.

And down at stricken

Hereford United

too, which could soon face yet another winding-up petition amid protests by fans who believe a former owner is still involved - despite being banned by the Football Association.
After so much negative news around the way some clubs are run, often by absent owners, and with 55 clubs having suffered insolvencies (some more than once) in the top five English divisions since 1992, it is easy to understand the current calls for a shift towards a European club model of supporter representation and ownership.
Especially when supporters at AFC Wimbledon, Exeter City, Wycombe Wanderers and Portsmouth have proved they can run their clubs themselves, and when 20% of Premier League Swansea City is owned by fans.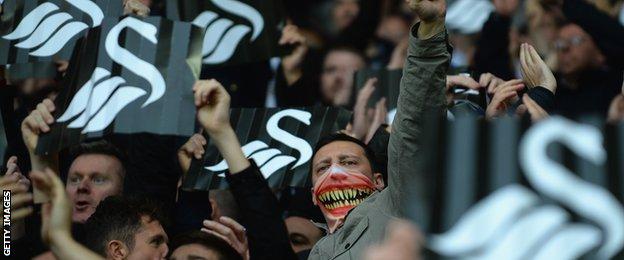 And yet there are plenty of sceptics too. After all, it was back in May 2010 that the current government pledged to "encourage the reform of football governance rules to support the co-operative ownership of football clubs by supporters".
Three years later, the coalition seemed to have run out of patience with the sport, threatening legislation to force through reforms that would help involve fans in the running of clubs. Sounds familiar, doesn't it?
While the Premier League and the Football League gained credit for introducing financial controls and greater transparency, the government wanted much more when it came to fan engagement, including a better financial settlement for Supporters Direct, set up in 2000 to with the aim of creating 50 supporters' trusts.
To date, the organisation has helped establish 120 such trusts, but the government's promised legislation has yet to materialise.
Only 14 English league clubs have fans on their boards, and Supporters Direct has just two full-time members of staff, frustrated by the limitations that imposes on their ambitions.
Back in 1999, the Football Task Force spelt out its vision of a fan-friendly sport, set up by Tony Blair's Labour government to enhance clubs' involvement with their local communities and to encourage fairer ticket pricing. Recommendations on tackling racism and improving disabled access were achieved, but when it came to the commercial future of the game, no agreement was reached.
Fifteen years on, David Mellor, the former Conservative minister who headed the task force, believes there is still plenty that needs improving.
"Sensible clubs should not lose their traditional supporters, because you want people who sing and travel," he says.
"Not just high earners who will turn up at home when their skiing holiday isn't in the way, but fans who will travel to away matches on mucky nights in places like Sunderland. But the Premier League has lost control of the cost of talent.
"Agents have a grip on the game, and there is ridiculous price inflation."
However, Mellor does not believe a lack of affordability necessarily gives politicians from either main party the right to interfere, whether on ticket prices or fan engagement.
"What I don't like is third-rate politicians from both sides, trying to exploit animosity against the Premier League, a great British success that's loved all over the world," he says.
"It's just trying to get votes with an election coming up, on the basis of saving fans from the realities of life - it's exploitative.
"Labour want two fans on every board. It's not sensible. It's not the real world, they'd just be activists. Real fan power is expressed by a whole stadium erupting against the owner."
And as for Grant's call for cheaper tickets, Mellor had this to say. "She goes on about her concern. It's like being concerned about rain. I'm always concerned when it rains. I don't know if she gets out enough."
While not perhaps as sceptical as Mellor, many certainly feel that amending company law in order to get fans on to club boards might not be as simple as Labour seems to think.
The party's proposals raise difficult questions for fan representatives. How they are elected? What are their legal duties, what of confidentiality, what is their personal liability in the event of bankruptcy? Others will dismiss the coalition's Expert Group as nothing more than a talking shop.
But at privately owned clubs like Manchester United, Manchester City, Liverpool and Chelsea, where there is no legal framework through which fans can hold the board to account, attend an annual general meeting, demand transparency over agents fees or debt servicing, such moves will no doubt be welcomed.
Many supporters are still hopeful perhaps that after years of over-promising, politicians may finally deliver a more democratic future for the game.