Shrewsbury Town-Chelsea: Akpa Akpro focused on league points
Last updated on .From the section Football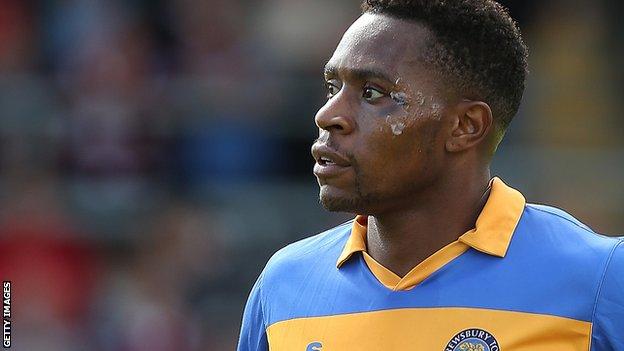 Shrewsbury striker Jean-Louis Akpa Akpro is refusing to get too excited about the prospect of facing Chelsea next Tuesday, after netting his first professional hat-trick against Bury.
But Akpa Akpro is not looking beyond Saturday's home game with Portsmouth.
"Chelsea would be a dream. Portsmouth is the reality. We have to think about reality first, dream second," he said.
"I want to stay in the moment. I do not want to talk about Chelsea now.
"Portsmouth first. That is the most important game now. Chelsea is a bonus. The league is what matters. We take it game after game," he told BBC Shropshire.
Akpa Akpro, 29, might not even have been playing against Bury had fellow striker Andy Mangan not succumbed to injury, but made the most of his selection to score three times in a 5-0 win over their fellow promotion hopefuls.
The French striker is expected to face Pompey on Saturday and, assuming he maintains his form, will be in prime position for a starting place against Chelsea.
Jean-Louis Akpa Akpro in England
Dec 2008-July 2010:
Grimsby Town - Games: 47 (13) Goals 8
July 2010-June 2012
: Rochdale - Games: 45 (38) Goals 12
June 2012-June 2014:
Tranmere Rovers - Games: 53 (8) Goals 10
Jan 2014-May 2014:
Bury (loan) - Games: 5 (5) Goals 0
July 2014-present
: Shrewsbury Town - Games: 11 (6) Goals 4
Akpa Akpro's first career hat-trick took him to 34 goals from 231 appearances in the seven seasons since joining his first English club, Grimsby Town, in December 2008.
But, having scored just once in 16 appearances this season prior to Tuesday's treble against one of his former clubs, Town manager Micky Mellon admits that he does need to start finding the net more regularly.
"If Jean-Louis could add goals to his performances, he probably wouldn't be playing for Shrewsbury," said the Scot. "He'd be playing higher up."
Akpa Akpro agreed, adding: "It is the ambition of every player to do as well as they can. I should score more goals.
"In the last game, I worked hard and did not score. I missed two open opportunities. This time they went in. But, if somebody else scores the goals, then I am happy for them."
He continued: "It is about competition. Everybody wants to play every game, but there are other good players trying to get into the team.
"Last year at Tranmere was not my year at all. But I was very happy to score my first hat-trick.
"Every game this season, I have felt we could win by more than 1-0, but the luck has not been not there. This time the luck was with us."