Torquay: Luke Young sale would need 'large amount of money'
Last updated on .From the section Football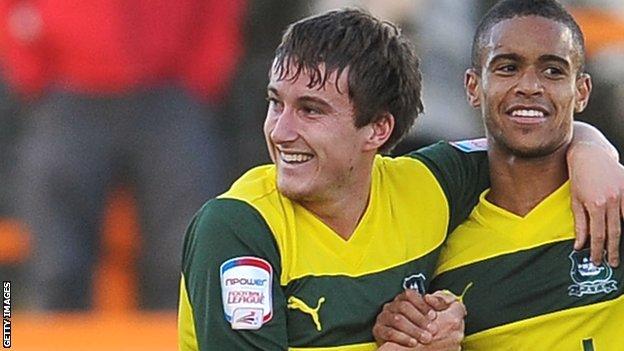 Torquay United would have to receive a "large amount of money" if they are to sell captain Luke Young, according to manager Chris Hargreaves.
"I want us to be successful and he's going to be a key part in that, so it's going to have to be a large amount of money," Hargreaves told BBC Sport.
"It'll have to be an offer we can't refuse," Hargreaves added.
"You can't be losing your best players when you need to get out of this division."
Young has impressed at Plainmoor this season, scoring six goals to be the club's top scorer, including crucial long-range winners against Woking and Wrexham.
"He's one of the league's best midfielders and it's a pleasure to have him with me as a manager," Hargreaves continued.
"He's a fantastic trainer, a superb lad. He's got to keep his head down and worry about himself - and his future and career will look after itself.
"But if it's money that this club, not Chris Hargreaves, cannot refuse, then my remit is to get that money."
Meanwhile the Gulls have extended the loan spell of Bournemouth midfielder Josh Wakefield for another two weeks.
The deal runs until 5 November, when Wakefield turns 21 and is no longer eligible for a youth loan, with the clubs discussing extending the deal past that date in due course.