Celtic have Craig Gordon to thank for victory jig

By Tom English
BBC Scotland
Last updated on .From the section Football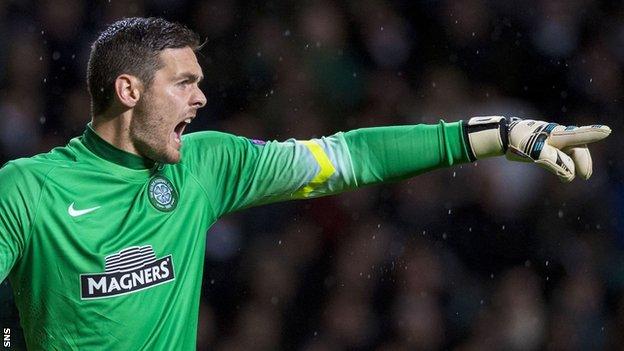 It was difficult to take your eyes off the one-man soap-opera that was Stefan Scepovic, the Serb with the perma-frown and the garishly coloured football boots, the striker with a pedigree that suggests there is a dangerous finisher in there somewhere if only he could cut out all the slapstick.
At times against Astra, Scepovic bore comparison to some of the failed strikers who have flitted across the Celtic landscape in the last few years. The beanpole target men, the Gary Hooper wannabes, the project players. The ones Neil Lennon counted in and counted back out again.
He was out-muscled. He looked a periphery figure, lacking in industry, as if waiting for the perfect delivery to land on his foot or his head. In the moments when he emerged on centre stage, he fluffed his lines, stooping to nut one wide from a few yards out then rising high and heading into the clouds when in good position.
When Scepovic gave away possession and sparked an Astra attack that had Celtic retreating madly and its support groaning loudly, the idea that he would be the one to unlock this game was fanciful. And yet he did.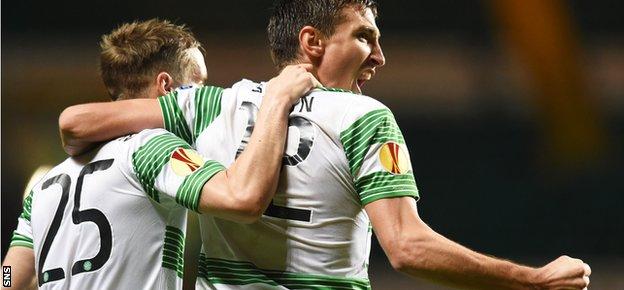 For 73 minutes, Celtic had not had one attempt that caused Silviu Lung Jr. a second's concern in the Astra goal. The paucity of their play could be described as stunning, but we've seen it too often this season to be all that surprised. Of course, what we've also seen - in this competition most of all - is their ability to survive their shortcomings and then rise above them.
Here again, the art of escapology was perfected. When Scepovic got on the back post to head home the opening goal, it was a tribute to the striker's spirit as well as a sucker punch to the solar plexus of the visitors.
When Stefan Johansen added a second minutes later, it was a comedic error by Lung that created it for a player who had singularly failed to have any impact on proceedings to that point. Astra may have been shell-shocked, but it's not the first this kind of thing has happened here lately.
Celtic Park is more than a football stadium, it's a twilight zone for visiting teams in this Europa League. On two occasions in this competition this season, they have hosted sides and on two occasions the away team has departed in befuddlement.
Previously it was Dinamo Zagreb, creators of multiple chances a few weeks back and yet beaten 1-0. And now it's Astra who carved out the lion's share of the chances and yet left town with a 2-1 loss.
Tom English on Celtic
"The bottom line is their group couldn't look much better - seven points from a possible nine and qualification for the knockouts firmly in their grasp."
They will talk about their own bad luck and their own profligacy, but they will also talk about - and curse - the name of Craig Gordon and in that they may as well join the queue.
Scepovic and Johansen might have scored the goals that liberated their team from a substandard performance, but it was Gordon who laid the foundations on which the victory was built.
There is a touch of the groundhog day about these European nights for Celtic. Gordon excels and then Ronny Deila is asked to talk about the importance of his goalkeeper.
Next time he's asked, he may as well tell the assembled press to put him down for what he said the last time because he's surely running out of new ways to describe how important Gordon is to this team.
Gordon was once again a key man for Celtic. He kept his team in the contest when they probably had no right to be, such was the insipidness of much of their night. For the longest time, Celtic couldn't defend, couldn't create and couldn't play at anything like the tempo their manager would have wanted.
They were dull and they were vulnerable.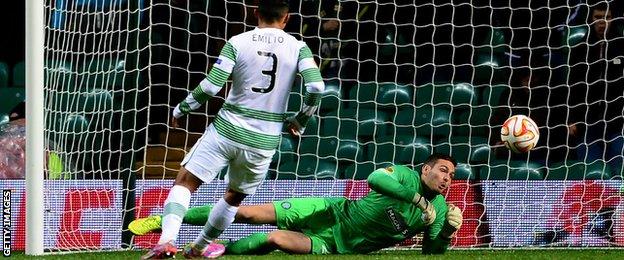 They were up against a team who came here with a new manager and a new frame of mind, a devil-may-care attitude that made them dangerous when most thought they would be anything but.
Astra had one win in seven coming into this, but they didn't look like a side that was scared at Celtic Park.
Why would they? Look at the videos of some of Celtic's displays of late and not even a humble force like Astra are going to start quaking in their boots. Teams don't have to study all that hard to find Celtic's weaknesses - and Astra found them repeatedly in that opening half.
In the space of three minutes, they forced Gordon into a block with his chest, a kick away with his foot and survived again when a third attempt went fizzing past his post. Soon after, a fourth chance arrived after Charlie Mulgrew gave away the ball and sparked panic in his defence, the fear only passing when Gabriel Enache shot wide.
At that point, Celtic were on the ropes, but they were allowed out of a tight corner and made the most of it. Credit them for that. They didn't play well, but they found a way to win. That's an admirable trait.
The bottom line is their group couldn't look much better - seven points from a possible nine and qualification for the knockouts firmly in their grasp. That's the positive, made possible largely because of the colossus they have in goal.
Gordon continues to deliver as Celtic continue to dream.