Erik Lamela: Mauricio Pochettino says goal was 'unbelievable'
Last updated on .From the section Football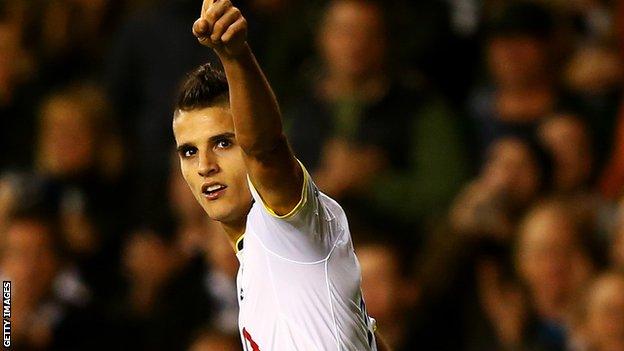 Mauricio Pochettino described Erik Lamela's wonder-strike during Tottenham's 5-1 win over Greek side Asteras Tripolis as "unbelievable".
Lamela scored with an outrageous 'rabona'-style strike, wrapping his left foot around his right leg to curl the ball in from 20 yards.
"It was a great goal, maybe the best by one of my players," said Pochettino.
Asked about his lack of celebration, the Spurs manager said: "I only show emotion at home, and in my bed."
What is a rabona?
A method of kicking the football with the kicking leg wrapped around the back of the standing leg, so it appears the player has their legs crossed
The first reported rabona happened in a league game in Argentina in 1948 and was performed by Ricardo Infante
Soon after, a magazine front cover featured Infante dressed as a pupil with the caption 'Infante played hooky'; rabona means to skip school in Spanish
Diego Maradona, Roberto Baggio, Gianfranco Zola and Paul Gascoigne are among the players who have performed a successful rabona during a game
Lamela's magnificent strike was hailed by his team-mates as one of the best they have seen.
Striker Harry Kane, who hit a hat-trick as Spurs strolled to victory, said: "It was crazy. He's got that in his locker and it was great for him to do it on the big stage."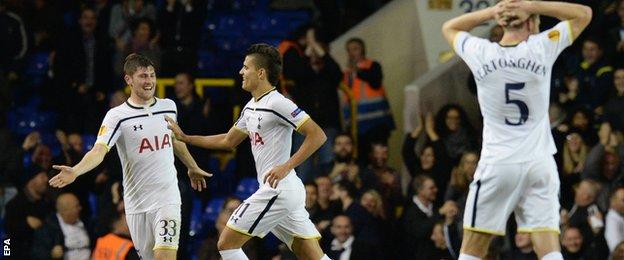 Defender Jan Vertonghen added: "I was stunned, for two minutes I was just thinking about that goal.
"It is 100% the best goal I've seen live. I've seen a lot of YouTube clips but I've never seen a goal like it. I think the Puskas award is already his."
Lamela love-in on Twitter

Gary Lineker, former Tottenham striker

I've just seen Lamela's goal for Spurs tonight. Oh I say!!! If there's a better goal scored this season than @Coco_Lamela's then I can't wait to see it...

Michael Owen, former Liverpool striker

My word. That Lamela goal was outrageous!!!

Peter Crouch, Stoke striker

Lamela's goal for Spurs is the ultimate showboat. WOW!!

Tom Huddlestone, Hull midfielder

Brilliant goal and confidence to try that
Immediately after the match Pochettino had seemed angry about the late sending-off of goalkeeper Hugo Lloris rather than the victory and Lamela's moment of magic.
But his mood had improved by the time he gave his press conference, saying: "One time I scored a goal like that myself. You will find it on YouTube.
"I am happy for Erik and it helped us to get the three points."
Lloris was shown a straight red card for bringing down Tasos Tsokanis when the Asteras striker was clean through.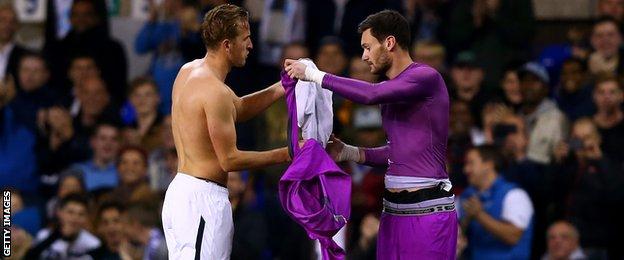 With all three substitutes on the pitch, hat-trick hero Kane went in goal but couldn't keep out Jeronimo Barrales' free kick.
"It was a great night until I went in goal," Kane said. "I think I'll leave that to the keepers from now on."
Pochettino said he thought Lloris did not deserve to be shown a red card.
"I have seen it on TV and for me it wasn't a sending off," the manager said. "But the situation where we gave the player the chance to arrive one-on-one I am not happy about.
"I am unhappy about the last two or three minutes of the game."
The victory moves Spurs level with Besiktas at the top of group C. Their next game is away at Asteras on 6 November.