Hibernian: Pat Stanton calls for greater steel on derby day

By Richard Wilson
BBC Scotland
Last updated on .From the section Hibernian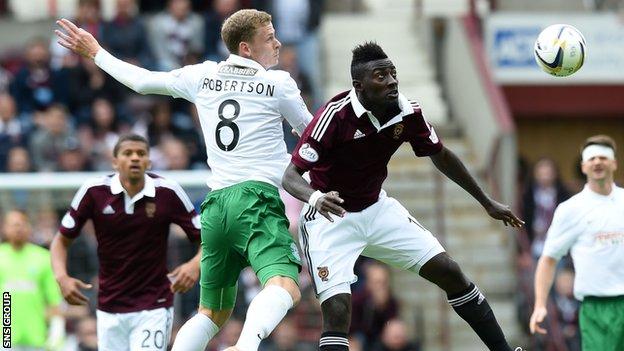 The old routine will carry an edge for Pat Stanton on Sunday morning. It always does when Hearts are travelling across the city to his beloved Easter Road.
And that churning mixture of excitement and nerves will exert itself again as he embarks on his own regular trip to the stadium.
Stanton has been playing in and watching these fixtures for 55 years, but never grows tired of them. How could he? "It's the Hearts," said the 70-year-old, as though that alone ought to be explanation enough.
He used to scale the walls of Easter Road to watch Hibernian when he was a teenager, then for a long spell in the 1960s and 1970s he was a towering, beguiling figure at the centre of one of the club's great sides.
Elegantly incisive, Stanton played with a heady and graceful combination of power and wit. He captained the team that won the 1972 League Cup, but it is a measure of that side's ability, marshalled by the gruff, insightful management of Eddie Turnbull, that the sole trophy is considered to be a shortfall.
Jock Stein's Celtic were dominant at the time, though, and there was still a 7-0 defeat of Hearts that continues to stand out even for supporters too young to have witnessed it themselves. Memories could crowd in on Stanton, but he remains a perceptive viewer of events at Easter Road.
The decline of Hibs has been painful for him, but then he once remarked that the two most important pieces of plastic in his wallet were his bus pass and his season ticket.
Yet his devotion does not restrict his view of years of decision-making that has resulted in the club trying to rebuild, again, in the Championship.

"There were far too many players who came to Easter Road who quite frankly were not good enough," Stanton said. "That's why we find ourselves where we are. I would like to speak to the person who thought these players were good enough to do a job.
"What annoys me more than anything is that the signs were there. There was a general decline. There were players there who really shouldn't have been wearing the Hibs jersey.
"At the end of last season there were one or two quoted saying, 'we won't go down'. Well, we did, and those saying that are no longer at Easter Road."
Stanton has been vocally supportive of the various supporters' groups that have campaigned for boardroom change, and he joined a "Petrie Out" demonstration during the summer, as fans and former players called for chairman Rod Petrie to step down.
His views carry a resonance because of his place in the club's history and because he has served as a lifelong fan.
He grew up in Niddrie, a rough, working class suburb of Edinburgh, alongside Hearts supporters, so the football rivalry has never carried a darker edge for Stanton, but he has watched the events of recent years at Tynecastle with a sense of frustration.
Pat Stanton at Hibernian

Makes Hibernian debut in 1963, the first of 397 league appearances

Scored 51 league goals and 25 in cup-ties during 13 seasons

16 caps for Scotland between 1966-1974, captain on three occasions

Manager of Hibs from September 1982 to September 1984
As Hearts suffered financial collapse and then relegation themselves, fans rallied to the cause with commitment and vigour.
The rebuilding job across the city has been swiftly effective, with a new board in place, a new football strategy, and a team that has swept to the top of the Championship - they are nine points clear of second-placed Rangers, and 14 ahead of Hibs.
"Hearts have shown a lot of passion from the fans, the players, the whole set-up; they all seem to be pulling together," Stanton said. "At Easter Road, it pains me to say that a lot of people could see this coming and nobody did anything to arrest the situation.
"A lot of supporters saw it coming, but the people in charge should have acted sooner.
"The Hibs support are not the enemy of the club. And what other recourse do they have other than having a wee meeting or a demonstration, just to show that they're not happy with the way things are going? They're not trying to undermine the club, they want to just see the Hibs do well."
There have been scant opportunities to revel in the status of the team or the club.
The derby matches are indicative of a prolonged demise, since they have won only 10 of the 44 meetings during the last decade.
Hearts fans still goad their neighbours about their 5-1 victory in the 2012 Scottish Cup final, but it is just as galling for Hibs supporters that they have won only six of the last 22 meetings at Easter Road.
Alan Stubbs' side has enjoyed an upturn in recent weeks but they have still only won four, and lost four, of their 10 league games this season, while Hearts remain unbeaten in the Championship. Stanton longs to see a spikiness return to the endeavour of the Hibs team in these heated derby fixtures.

"Too often, Hearts just seem to brush Hibs aside, there's no real resistance," he said. "It's almost been inevitable that Hearts would beat us, and Hibs have accepted it. If teams do that to you, it's your own fault.
"You've got to play as though you think you can win. It's all very well talking beforehand and going through the motions on the pitch, but you've really got to be determined and offer a bit of resistance.
"It's very early to judge Stubbs. What's happened didn't happen two weeks ago, it's been ongoing for a few seasons now and Hibs have just drifted down the way. We're not going to go from where we are now to where we think we should be overnight."
Stanton admires one or two of the younger players at Easter Road, particular his namesake, but no relation, Sam Stanton.
Yet he feels the team is still short of experienced leaders - "like Franck Sauzee, or Jackie McNamara" - because the best of players still need to be shaped and moulded.
He still recalls one of his own early games, when a senior pro, Tommy Preston, told him bluntly at half-time: "don't give the ball away". Stanton paid little attention at the time, but eventually understood the meaning.
"I just let it go over my head and it was only later down the line that I realised that's the basis of the game: keep the ball," he said. "Me, thinking I knew everything, just dismissed it as a throwaway remark. It took me a few years to realise the wisdom of his words."
Stanton is content to embark on the occasional wander back into the past, to when he could influence the fortunes of Hibs rather than observe them, but he has little time for those who hark back to history to say: this was how it was done in my day. The game has changed, and so too have the fortunes of Hibs.
There is a long road back, and the gravest concern for now is being left behind in the Championship for another season while Hearts bounce straight back up.
"The danger signs are there," Stanton said quietly. "I would hate to see it happen."