Arsenal: Per Mertesacker attitude can't be faulted - Arsene Wenger
Last updated on .From the section Arsenal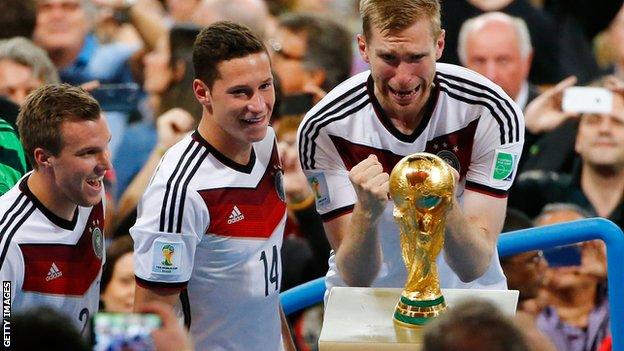 Arsene Wenger has backed the attitude of Arsenal defender Per Mertesacker, who admitted lacking motivation after winning the World Cup with Germany.
Mertesacker said "there is something missing" from his recent performances.
"The World Cup was nearly 100 days ago, so it is time to raise the game, raise the mentality, to come back and just think about Arsenal," said Wenger.
"I believe it is more linked to his confidence, but I can't fault his attitude."
The Gunners boss added: "It will take him time. Yes, he is right about that."
Mertesacker, 30, was a late substitute as Germany beat Argentina in the World Cup final.
He made 62 appearances for club and country last season, including appearances in the Champions League, FA Cup and League Cup.
Speaking after Wednesday's 2-1 Champions League victory at Anderlecht, Mertesacker was critical of his own performances this season with Arsenal recording just two wins in eight Premier League matches.
He admitted: "For me personally, it is difficult because that was really a long season last year, and to come back from the World Cup and get the motivation back, I am nearly there, but you can feel there is something missing."
Mertesacker announced his retirement from international football in August after gaining 104 caps.