John Hartson apologises to Stoke's Victor Moses over 'cheat' claims
Last updated on .From the section Football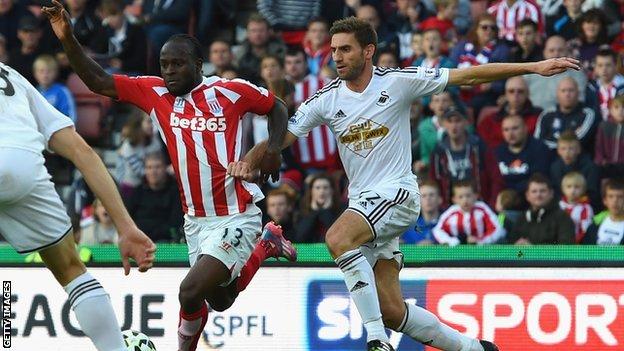 John Hartson has apologised to Victor Moses after claiming the striker "cheated" to win a penalty in Stoke's 2-1 win over Swansea last weekend.
Following discussions between the club and the BBC, Stoke say the matter is now closed.
"I'm happy to accept his apology and am now keen to move on," said Moses, 23.
Hartson tweeted: "I've spoken with Victor Moses and apologised for my comments last week using the word cheat. Victor has accepted my apology and we move on.
"I will endeavour to choose my words more careful in the future. My stance on players diving remains the same. But understand part of game."
Stoke's equaliser in the match came from a penalty awarded when Moses went to ground as he was challenged in the box by Angel Rangel.
Swansea boss Garry Monk said Moses should be "ashamed of himself".
A statement on the Stoke website said: "Following discussions between the club and the BBC, Hartson today spoke to Moses to offer apologies for any offence he may have caused."
Moses, who is on a season-long loan at Stoke from Chelsea, added: "I'm grateful to John for having taken the trouble to ring me to apologise for his comments."