Manchester United v Chelsea: Mourinho no plans to change
Last updated on .From the section Chelsea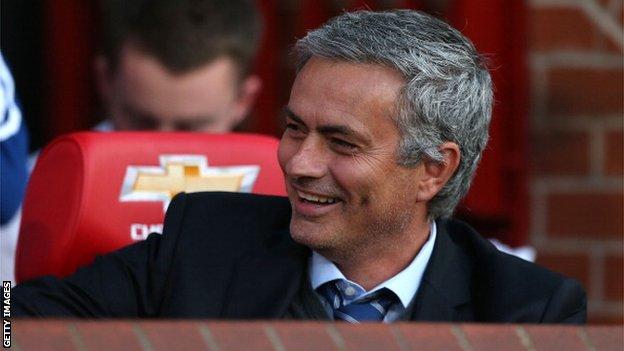 Chelsea manager Jose Mourinho says the Premier League leaders will look to maintain their positive start to the season at Manchester United on Sunday.
But after seven wins in eight games, Mourinho is happy with his tactics.
"We are confident. We are in a good situation and there is no reason for us to change our feeling," he said.
"We try for the best result as always.
"We try to play as good as we are playing and we are always trying to play, respecting an opponent that is one of the best and most difficult in the Premier League."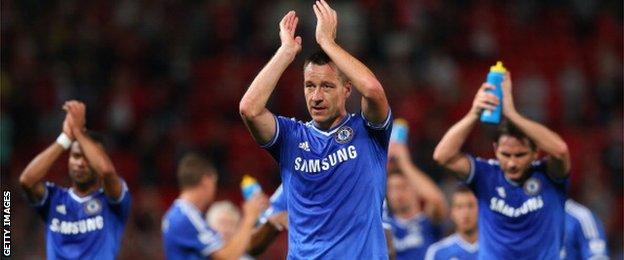 Chelsea's impressive start to the season has taken them 10 points clear of United, who have struggled to build any sustained momentum under Louis van Gaal.
The Dutchman will be looking to narrow that gap and get the better of Mourinho, who previously worked under him at Barcelona - Mourinho's Inter Milan beat Van Gaal's Bayern Munich 2-0 in the 2010 Champions League final, their only previous meeting.
Van Gaal expects Argentina international Angel Di Maria - who played under Mourinho at Real Madrid - to be fit after picking up a thigh injury in Monday's 2-2 draw at West Bromwich Albion.
Jose Mourinho at Old Trafford with Chelsea
January 2005 (Carling Cup): Manchester United 1-2 Chelsea
May 2005: Manchester United 1-3 Chelsea
November 2005: Manchester United 1-0 Chelsea
November 2006: Manchester United 1-1 Chelsea
August 2013: Manchester United 0-0 Chelsea
Striker Radamel Falcao could also start after being among the substitutes at the Hawthorns, but Mourinho - who may have top scorer Diego Costa available after injury and illness - claims not to be concerned about United's line-up.
"We are very confident about ourselves. I'm not interested in thinking which team Man United play, who is playing, who is not playing.
"We are playing well, we are confident, we are top of the league, we are in a good position.
"The camp is happy and we are ready for the game."